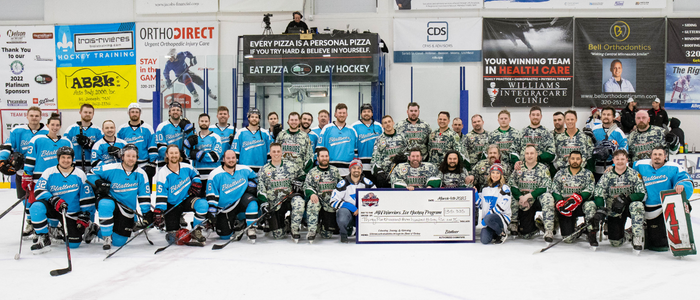 Showcase Raises $35,000 For Minnesota Warriors Hockey
Posted on March 7, 2023 | Blog, Community, Character
SARTELL, MINNESOTA – The significance of this game takes on more meaning every year.
The third annual Minnesota Warriors Hockey Showcase raised a record $35,335 for the Warriors Hockey program.
The Warriors' mission is to provide a therapeutic, recreational and educational opportunity for wounded, injured or otherwise disabled veterans. This year's game was played on Saturday, March 4, at Bernick's Arena at the Scheels Athletic Complex in Sartell, Minnesota.
The inaugural Showcase game was played in 2020. After a break due to COVID-19 in 2021, the game was played again last year. This year, the Warriors came out with a 7-3 victory over the Blattner hockey team, which features players from the Blattner family of companies.
Warriors forward Curt Wilson, who was recognized as the USA Hockey Disabled Athlete of the Year in 2021, said the Showcase is always special for his team.
"This game is always amazing for us," Wilson said. "This money goes to our travel costs for our upcoming tournaments and it's fantastic for our guys. We always look for opportunities to raise money to keep our purpose and mission going. Blattner is incredible to work with on this. Together, we make a great team."
Wilson served in the U.S. Navy from 1998-2006. The 50-year-old has a passion for hockey that can't be denied. He played high school hockey at Princeton (Minnesota) High School until he graduated in 1990. After that, he played at Minnesota-Crookston and club hockey for North Dakota State University in the 1990s.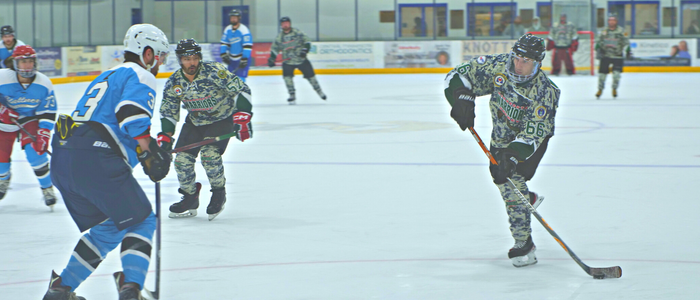 The Minnesota Warriors defeated the Blattner hockey team 7-3 in the third annual Warrior Showcase on March 4 at the Scheels Athletic Complex in Sartell, Minnesota.
In 1997, he enlisted in the Navy and was on active duty until 2006. In 2003, his unit saw combat in the march to Baghdad during Operation Iraqi Freedom and his battalion was awarded the Presidential Unit Citation.
Wilson has helped oversee the exponential growth of the Warriors program. To him, it's all about providing an outlet for veterans who are missing the camaraderie and friendships they forged while serving their country.
"To see how far the Warriors program has come, it means everything to me and the guys in that locker room," Wilson said. "I couldn't stay away from the ice even though I'm getting up there now. We give each other a hard time, of course, but at the end of the day we're here for one reason and one purpose."
The Warriors program educates, trains, motivates and encourages individuals who have physical disabilities incurred during service to the United States. The program also uses the game of hockey to develop self-confidence, adjust to new lifestyles, focus on rehabilitation, self-reliance, concentration and help participants back into mainstream lifestyles.
Warriors forward Nick Hathaway pointed to his teammates as the main reason he continues to play the sport he grew up on in Champlin Park, Minnesota.
"It's absolutely awesome to be around these guys. It's not about the skill level when we play. We're all brothers, whether we were in the Army, Navy or Marines. This is the best time you could ever imagine as a veteran," Hathaway said. "We're all family here. No matter if you're going through good times or bad, we all lean on each other. We're always there for each other."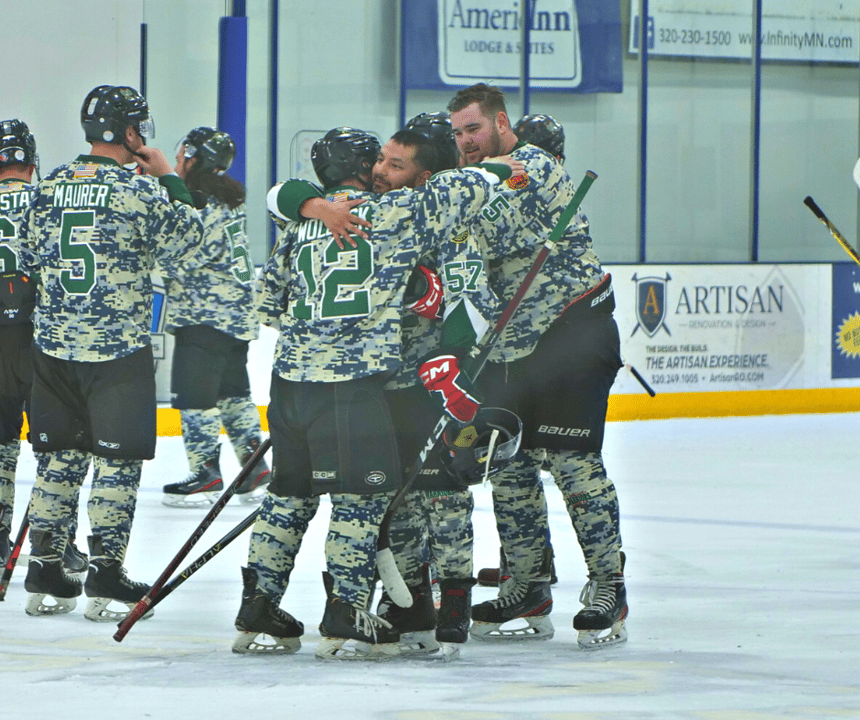 Minnesota Warriors players congratulated each other after defeating the Blattner hockey team 7-3 in the third annual Warrior Showcase on March 4 at the Scheels Athletic Complex in Sartell, Minnesota.
The Showcase is the largest fundraising event of the year for the Warriors. Forty-three local businesses contributed monetary or-kind donations for the event. Those donations, along with proceeds from a free will offering at the door, raffle ticket and event activity sales and Blattner Company contributions helped the total surpass $35,000.
The Warriors will use part of the donation to help pay for ice time and travel expenses throughout the year. That travel time is vital for the Warriors to help support any of the players that might be having issues at that time. The time spent together on the road is a conduit of communication for everyone involved.
The St. Cloud Warriors, along with two other teams from Minnesota, will play in the Disabled Hockey Festival in late March and into April.
"To be out there at my age is a lot of fun," Wilson said. "Being part of the Warriors is part of the healing process for a lot of us. We're wearing a different uniform now, but this still means the world to us," Wilson said.
Hathaway, 32, wants to keep playing in the event for as long as he can. Whether or not he hits 50 like Wilson remains to be seen.
"That would be something," Hathaway said with a smile. "Raising money is one thing, but we're out here supporting each other while playing the game we all love. That's the biggest thing. This event just means the world to us. It's a dream come true."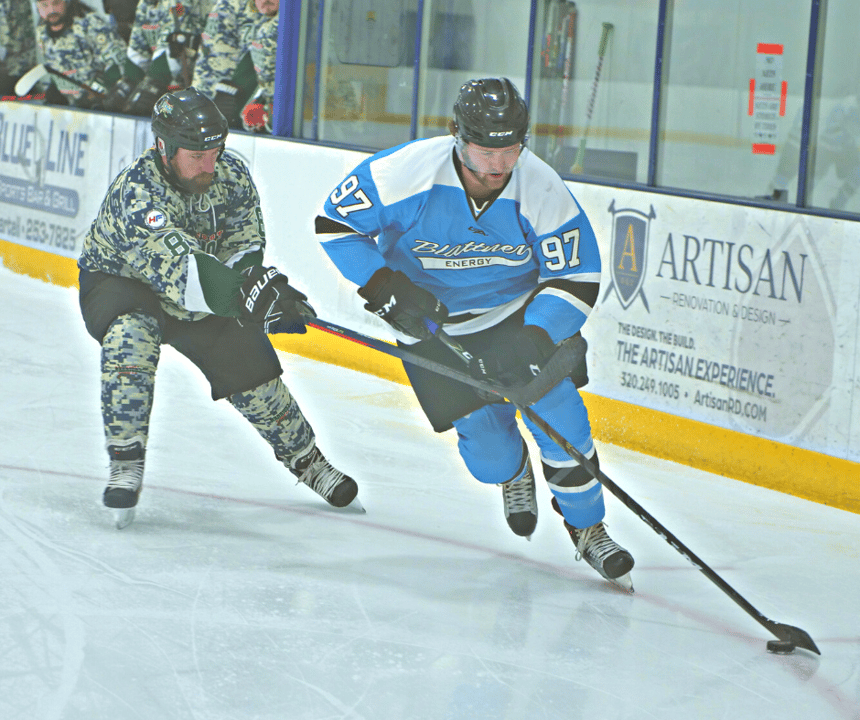 Blattner's Nate Arentz tries to skate around the Minnesota Warriors' Jesse Wolbeck during the third annual Warrior Showcase on March 4 at the Scheels Athletic Complex in Sartell, Minnesota.
Anthem Singer Delivers Stirring Rendition
John deCausmeaker is no stranger to singing the national anthem.
The Navy veteran has sung "The Star-Spangled Banner" for the Minnesota Wild at every home game since 2017. And he's also sang it at Minnesota Vikings and Minnesota Twins games.
He was honored to sing it for the 2023 Warrior Showcase for a third time.
"I have friends on the Warriors and I'm a veteran myself. I've hung out with the guys on the Warriors and they asked me to do it. I'm just happy to help when I can," deCausmeaker said. "I'm not a guy with a lot of money and I can't lend a lot of money to causes like this, but I can at least lend my voice."
Delivered in a clear tenor, deCausmeaker's talent is extraordinary. He credits his patriotism from his dad, who spent 20 years in the Army. After graduating from Moorhead (Minnesota) High School in 1993, deCausmeaker enlisted in the Navy where he spent four years as a submarine sonar technician. He was also stationed for a time at the naval base in Pearl Harbor, Hawaii.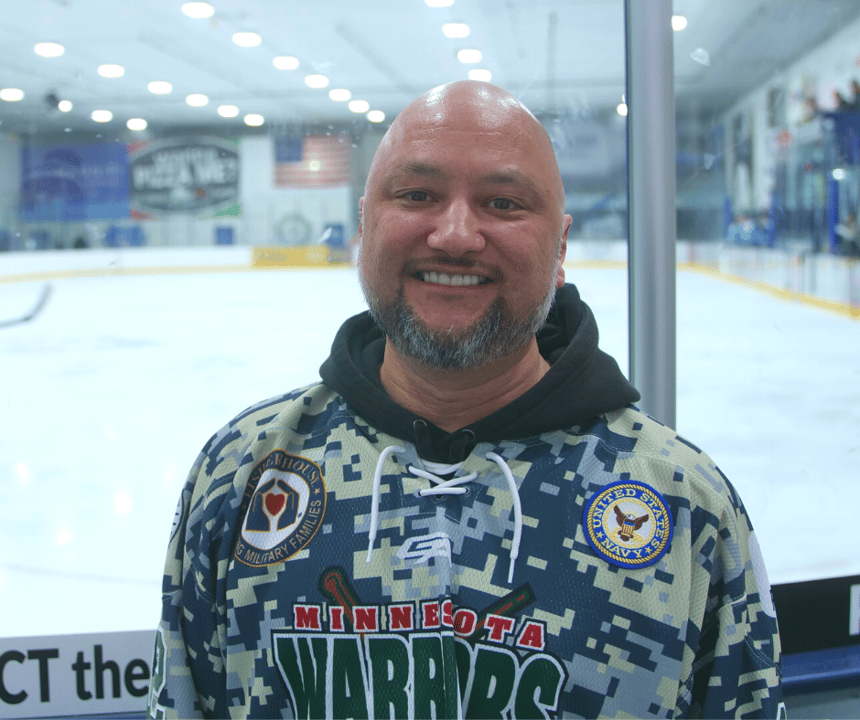 National anthem singer John deCausmeaker sang at the Warrior Showcase for the third time in 2023.
After active duty, deCausmeaker moved back to Fargo, North Dakota, with his girlfriend, Monica, who is now his wife. He attended Minnesota State-Moorhead University and graduated with a degree in music education in 2006. There, he sang with the MSUM concert choir and the FM Opera while also singing national anthems at Fargo-Moorhead RedHawks baseball games.
Since then, he has sung with the Minnesota Opera and Minnesota Chorale. He also does freelance singing at weddings and is a weekly church soloist. He works full-time for Allianz, a Minnesota-based insurance company.
But being the Wild's national anthem singer is what he has become known for. National Hockey League teams are unique in that they employ one anthem singer for the entire season.
"It's a big gig, but I love doing it. I love my country. I love sports. I love music. That's why I love national anthems. I do a no-frills version. It's not my song. I don't change it up too much. I do it for everybody in the arena. It's really seems to resonate with people."
The Warriors offer veterans a chance to return to mainstream society that encourages camaraderie while promoting gentle transition into a greater comfort with their daily lives. The Warriors Showcase is something deCausmeaker hopes to continue doing in the future. To him, it's important to support veterans any way that he can.
"The Warriors is a very important program. There's a stigma around veterans. This helps with that. I've hung around the guys from St. Cloud. The way they treat and love each other, it makes you miss that camaraderie and time together you had when you were serving," deCausmeaker said. "Watching them play really inspires me."
It inspired deCausmeaker so much that he started practicing with the team in the hopes of one day playing for them.
"Before I started, I could skate, but I couldn't stop," he said. "My 13-year-old son plays hockey as well. Now I'm playing in an adult hockey league and practicing with the Minneapolis Warriors a few times a week. It's hockey all the time for me. I wouldn't have it any other way."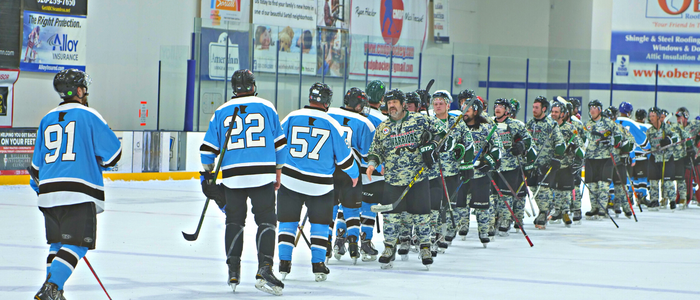 Players from the Blattner hockey team and the Minnesota Warriors shake hands at the end of the third annual Warrior Showcase on March 4 at Scheels Athletic Complex in Sartell, Minnesota.