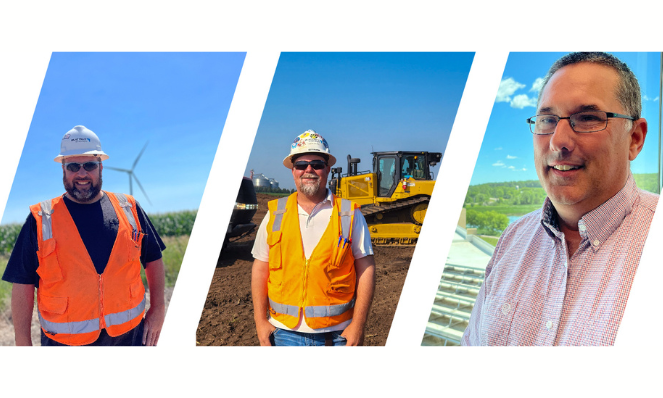 Rising in the Ranks: Carving Out A Career Path In Construction
Posted on August 12, 2022
Careers in construction can build a lifetime of opportunity and provide plenty of room for professional growth.
Finding the right company to grow with is the key.
Three Blattner employees have shown how a renewable energy career path led them to a bright future.
Heath Kapke, Brent Wellik and Steve Thomas have all worked for the company for more than nine years. In Wellik and Thomas' case, it's been more than 15 years.
For Thomas, a general superintendent, the benefit of staying with one company comes down to a feeling of family among co-workers.
"The camaraderie that we have here at Blattner is very rewarding for me," Thomas said. "If you work hard and dedicate yourself, you can go a long way here. Blattner has always given me the tools to succeed.
"We have so much legacy knowledge in this company. If you're willing to seek out solutions, you'll find somebody who will give you the tools to succeed here."
Long Construction Careers
Wellik started at Blattner on a grading crew in 2007. Now, he's a site manager on a wind energy project near the Minnesota and South Dakota border. Wellik estimated he's worked at 20 Blattner job sites during his time with the company. Having worked on the civil side his entire construction career, his recent promotion to site manager is a big change, but one he welcomes.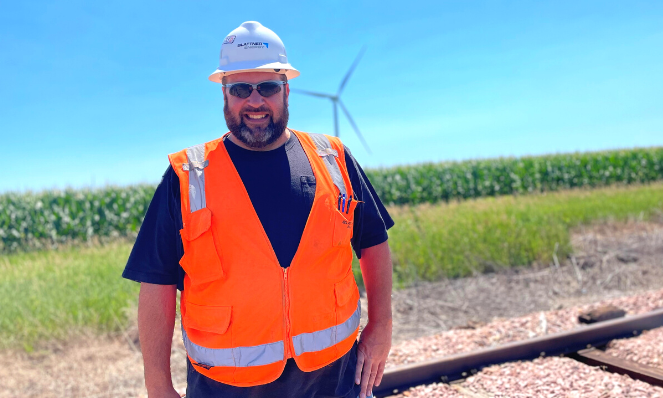 Brent Wellik on a wind energy project near the Minnesota and South Dakota border.
"The thing about Blattner is, that they work with you to succeed," Wellik said. "I've moved from operator, to foreman, to superintendent and now to site manager. Blattner sees your work ethic and potential and finds the right fit for you. That's what I love about this company, they do what is best for you."
Kapke started in construction when he was 17 and still in high school in southeastern Nebraska. He drove a concrete and gravel truck and ran wheel loaders. After working for a local concrete business for eight-plus years, Kapke knew he wanted to do more with his career. He shifted gears and went to work for a friend's business that operated bigger equipment.
That 12-year stint of working with bigger equipment paid off in 2013. Kapke, who also farms, was having a hard time finding steady employment. He heard Blattner was looking for operators, so he decided to take a leap of faith and see what they had to offer.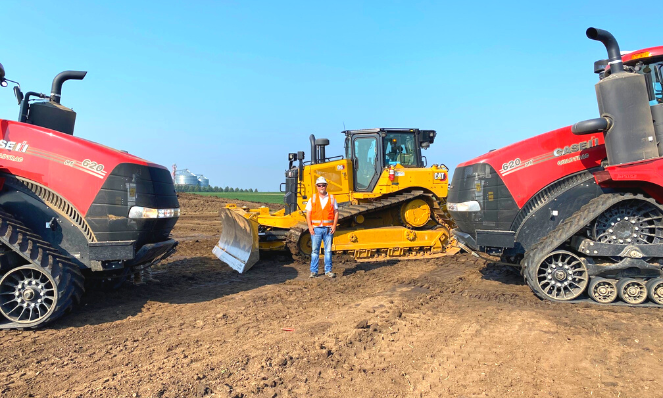 Heath Kapke with his favorite construction equipment on a wind project near the Minnesota and South Dakota border.
"I thought I would do that just for a summer. I was farming at the time and had to get my crops in," Kapke said. "I started at Steele Flats, a wind project in Nebraska, as an equipment operator. I had only been with Blattner for a month when I was asked if I was interested in traveling for a new opportunity. My supervisors had big grins on their faces when I asked them where they wanted me to go because they knew I thought I wouldn't be here long.
"I ended up traveling to work at a wind project near Elgin, Nebraska. I met Brent (Wellik) at that job, along with some other friends who have become like family to me."
Strong Love for Construction
Kapke, Wellik and Thomas love seeing one of their projects come to life. Thomas is proud of the work Wellik and Kapke have put in to move up in their careers.
"All of us love moving dirt and take pride in building something from the ground up," Thomas said. "I've known Brent since 2007 and Heath for the past eight years. I'm very proud of them. They are hard workers and have earned their spots.
"If you stay focused, and work hard, it's easy to move up at Blattner. My advice is to get involved, have solutions for problems and exceed your job's expectations."
Thomas was Wellik's first foreman at Blattner. As Thomas moved up, so did Wellik. And, Wellik helped Kapke land a job at Blattner.
"You see the three of us and it all comes back to hard work," Wellik said. "We have moved up because of our work ethic. We're never going to ask someone to do something by themselves. We're a team. We treat our co-workers like family and build those personal relationships."
Wellik grew up in Britt, Iowa, in the north-central part of the state. He worked on his family farm until he was 31. He still farms to this day and raises cattle while focusing on growing corn and soybeans in the summer. Blattner has worked with him so that he gets time off in the spring and fall for planting and harvesting, respectively.
"It shows that they want me to stay around and value what I do when I'm not here. Farming is so vital to our way of life," Wellik said. "The leaders above me, from vice presidents to general superintendents, have always remembered me. They know you by name and always talk with you. You're not just a number to Blattner."
Kapke and Wellik have grown so close that they have gone on hunting trips together, including one in South Africa for 11 days. It was a trip of a lifetime for both men, but also provided a great bonding experience for the co-workers and friends.
"Brent bid for the trip at a banquet, and he asked if I wanted to go," Kapke said. "I needed a passport because I had never gone anywhere like that. It's something I never would have done if I hadn't been at Blattner. You get to know people here and what they're all about. I have no complaints about my co-workers because they're like family."
Learning New Roles
Kapke and Wellik's recent promotions have changed their daily routines. Kapke has operated everything from an excavator to a bulldozer. He never thought he would be wearing a project site leader-level white hat as a civil superintendent. But he wouldn't change his career trajector.y one bit.
"I thought I would never take a green helmet, but I did. I thought I would never take a white helmet, but I did," Kapke said with a laugh. "These are leadership roles I never thought I would be in. I've liked every aspect of my various jobs at Blattner. I'm never going to say no to something new now. If the opportunity is there, I'll jump at it."
Wellik smiles when you mention Kapke's name to him because of how far Kapke has come in less than a decade in the company. When it's mentioned that Wellik's career trajectory has come a long way itself in 15 years, he gets a little more introspective.
"I've always expected the unexpected in my career. Nothing has been straightforward or cookie cutter for me," Wellik said. "But I like that every day is different at Blattner, in that you're never doing the same task. In my new role, I see how things are performed from a different perspective. This job is always changing. I like that."
Construction workers are unsung heroes of our culture. These skilled tradesmen perform good, honest work. But renewable energy takes that good, honest work and magnifies it with the good it's doing in contributing to the clean energy movement.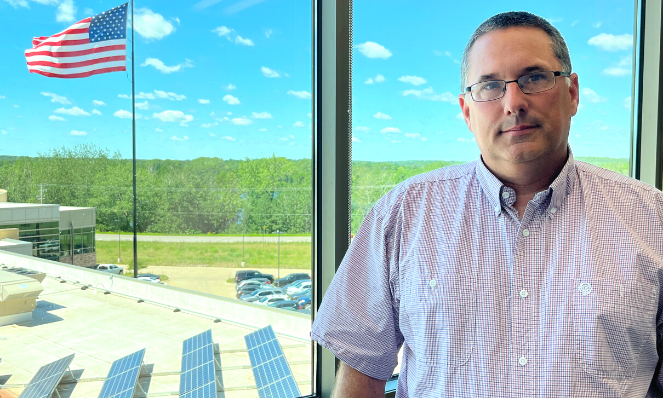 Steve Thomas at the Blattner corporate office in Avon, Minnesota.
There are many reasons to explore the opportunities and benefits in renewable energy, including:
An evolving, fast-paced environment

Good work-life balance

Diversity and inclusion

Flexible work

Enthusiastic, friendly team members
"Blattner is family to us," Thomas said. "I've worked with so many people for so long here. We spend time away from our home, and we create a new family on our sites."
Learn more about career paths at Blattner by clicking below.