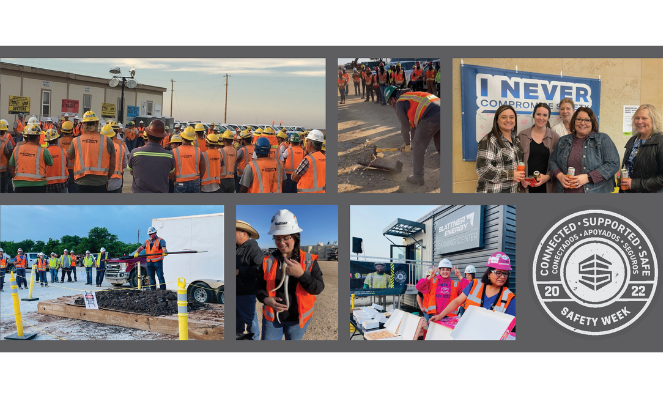 Construction Safety Week 2022: Connected. Supported. Safe.
Posted on May 11, 2022 | Blog, Culture, Character
Safety isn't about you. It's about everyone in your life, from your family to your co-workers.
In the construction world, safety is a bond – a familial connection to one another that reflects a bigger picture of being responsible for the welfare of each other.
When construction employees support safety, it creates a culture based on trust where everyone looks out for each other. Because, at the end of every day, it's all about going home the same way you came to work by returning home safely.
Blattner has created a culture where its employees feel safe on the job. That's why Blattner is continuously improving and implementing new safety procedures to make sure its employees are connected and committed to it.
Construction Week Themes
For Construction Safety Week 2022, during the week of May 2-6, Blattner celebrated the week with different themes for each day.
It started with "Water – Rest – Shade." The discussion topics revolved around how much and how often to take a break while recognizing the signs of heat illness and dehydration. Shade stickers were given to employees to remind them about the importance of all three.
At every project site, including Blattner's corporate headquarters in Avon, Minnesota, employees ran mock emergency drills to prepare for various types of incidents. All rescue gear was inspected, and local emergency response teams assisted in the drills. A communication plan for severe weather was also talked about companywide.
Hand placement was also a big topic due to the risk of hand injuries in the construction trade. Employees talked about where they were placing their hands on the job and to be aware of potential pinch points.
Purposeful stretching was also hot topic. After all, not all stretches are created equal. Employees focused on specific stretches that could provide the biggest benefit to their bodies for the specific tasks they are performing.
Deliberate Communication
The importance of deliberate communication was brought up at each site. Talking through the work that each employee is performing, before completing it, is vital so those around you so they understand what's going on. It's always important to pause before acting.
In addition, answering the question "Why Do I Never Compromise Safety" was asked of everyone. Questions like these were asked:
What is your why?

Who or what do you stay safe for?

What impact would an accident have on your family, friends or co-workers?
The answers to these questions usually revolve around the future because of the impact an accident could have on someone's family and friends. But, more importantly, staying safe begins with understanding self-care to avoid accidents from happening.
By making these conversations about safety normal, all construction companies involved in the nationwide Safety Week effort can provide the right tools and resources for their employees.
The more tools and resources that are made available to construction workers, the better work they will deliver. This leads to safer teams and safer job sites.
Thank you to everyone on our teams for continuing to live out the Blattner Basic of Never Compromising Safety.