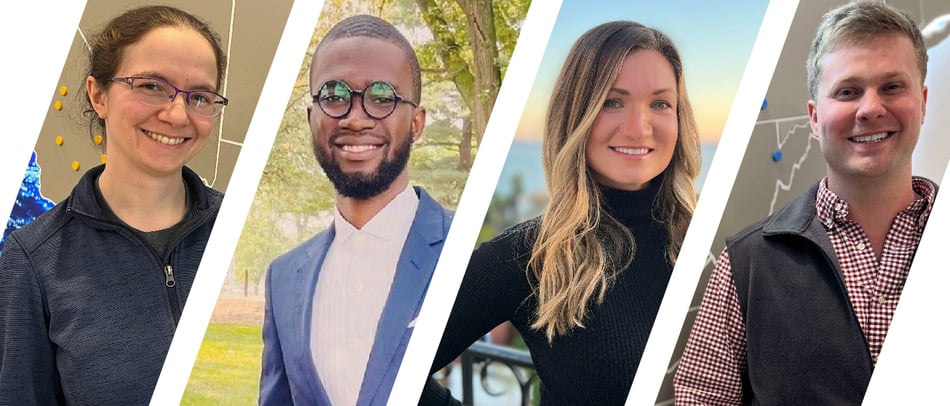 National Engineers Week 2023: Celebrating Our Engineers
Posted on February 20, 2023 | Blog, Culture, Careers, Employee Spotlights
Not every kid loves math and science classes.
For Blattner Senior Civil & Structures Engineer Alysha La Salle, she loved every minute of them.
"I loved the problem-solving aspect of it," La Salle said. "If you like math and science, and you're intrigued about how things work, you might just become an engineer."
Engineers are professional problem solvers. In renewable energy construction, they work to produce a design that meets a client's need throughout the preconstruction phase while continually striving to find innovative ways of saving cost, time and resources.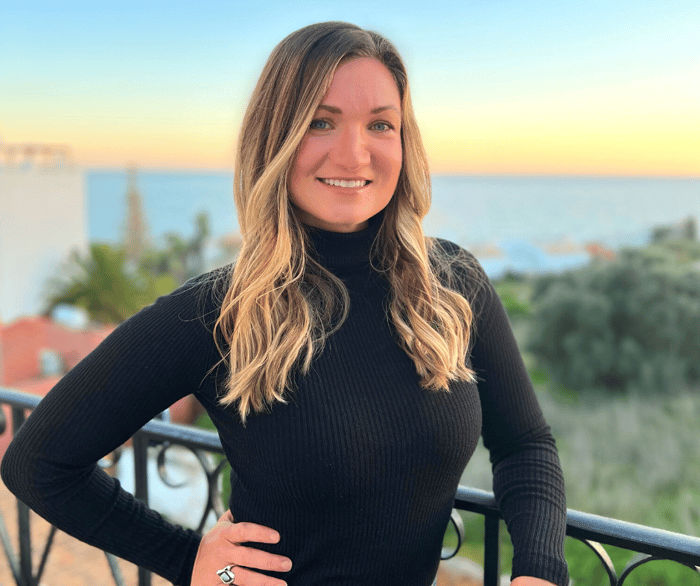 Blattner Senior Civil & Structures Engineer Alysha La Salle.
"We're always looking for ways to improve and streamline processes while maintaining relationships with our clients," La Salle said. "This is the one career where you problem solve in a team atmosphere. We always work together to solve a common goal."
La Salle is one of the many engineers at Blattner who work together to make a significant impact on the renewable energy construction industry.
Professional problem solvers like La Salle help us achieve our Purpose, Basics and Values at Blattner. Whether they work in our corporate office, or are out in the field, engineers are part of a wide range of disciplines (electrical, civil and mechanical).
Blattner is celebrating all its renewable energy engineers as part of National Engineers Week, which runs Feb. 19-25, 2023.
La Salle, who speaks four languages fluently, grew up in Brussels, Belgium, before moving to the United States when she was in middle school. Her family landed in the small town of Hamilton, Montana, which came with a lot of perks – and a few challenges.
"Everyone knew everyone and everything that happened in town," La Salle said. "Hamilton had a real sense of community that you grew to love. But it made you realize how rural Montana is. That upbringing made me adaptable."
La Salle earned a civil engineering degree from Montana State-Bozeman in 2015. After five-plus years in the profession, she joined Blattner in September 2021 as a civil project engineer. She was promoted to civil and structures senior engineer in August 2022. La Salle is proud to work for a company that is focused on a clean energy future.
"I am proud of this company because we put the future first. We're striving to create a better place for the next generation," La Salle said. "The family culture here is unprecedented. Even as a remote worker, when I come to the office, I'm always greeted warmly. We're all friends on our team. We always step up to help each other and bring each other up."
La Salle takes immense pride in seeing a renewable energy project go from inception to completion. Although it takes a lot of knowledge to get a project complete, she believes it all starts and ends with relationship building to get a job done.
"As an engineer, you have to gain people's trust," La Salle said. "We spend so much time on the phone with our clients and each other. Relationships are imperative. In the end, we are all one team cheering for the same common goal: finishing on time and under budget."
Blattner Senior Engineering Manager Jason Oberg credits La Salle's field experience for her high performance.
"She spends so much time on site and really supports our field team members," Oberg said. "She's great at solving technical problems and we're lucky to have her here."
Jennifer Duffy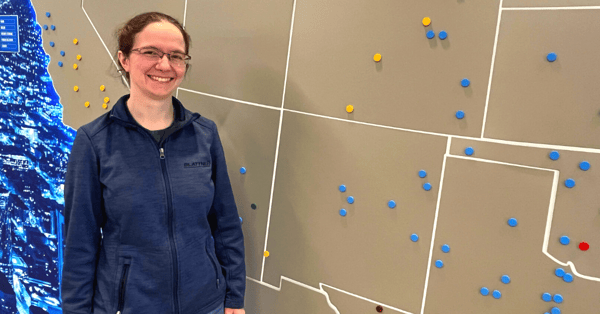 Blattner Senior Electrical Engineer Jennifer Duffy.
Jennifer Duffy always wanted to help people using math and science. That's why engineering was an easy career choice for her because it combines both disciplines.
"I always wanted to do something challenging academically where I could effectively use my gifts," she said.
Duffy earned an electrical engineering degree from Harding University in Arkansas. The Central Minnesota native started at Blattner in June 2015 and immediately began work as an engineering technician doing CAD layouts for the solar team. She has worked her way up to become a senior electrical engineer.
"I started out working on layouts, and now I'm a senior engineer overseeing bid designs," she said.
At the bidding phase, Duffy helps develop designs and quantities for Blattner's projects, so her team can accurately price and win work. After Blattner is awarded a project, the project engineering team ensures the development of the project's final design.
"Without engineers, we wouldn't have designs to price or build," Duffy said. "Engineering not only involves calculations and technical decisions, but we also get to think of and work through creative solutions."
Duffy loves working on the Blattner engineering team because of its family-like atmosphere.
"The camaraderie of our team – we're like a big family. I love coming to work every day," she said. "It's always exciting seeing something we've all designed being built and – ultimately – implemented."
Oberg calls Duffy "a jack of all trades" and someone who is respected across the company.
"She's so bright and a natural teacher," Oberg said. "She enjoys creating new internal processes to help us be more efficient. She's engaged and always asks critical questions."
Cedric Tiawara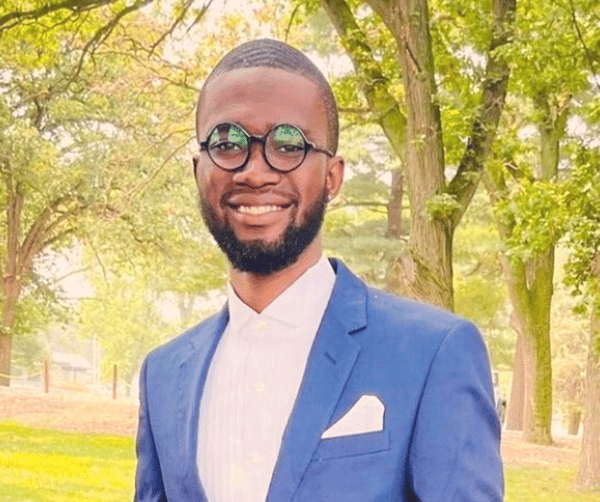 Blattner Electrical Engineer Cedric Tiawara.
Finding solutions to a problem is something that always thrilled Cedric Tiawara.
The Blattner electrical engineer wanted to use his problem-solving ability to help make the world a better place.
"I was always fascinated by renewables because I wanted to support something that was meaningful. That's what Blattner was doing – bringing clean energy to communities across the country," Tiawara said.
Tiawara earned an electrical and electronics engineering degree from St. Cloud State University in 2021. He joined Blattner in September 2021 to contribute to leading America to a clean energy future.
"Most people are unaware of what engineers do, especially in bidding and building," he said. "We make sure of the smooth running of technical tasks while ensuring that all standards are followed. We work on solutions for any problems that come up. I'm so happy to be part of a company that is part of the movement to make America cleaner."
Tiawara offered up some advice to anybody who is considering a career in engineering.
"I take great pride in making other people's lives better," he said. "I would advise anyone who enjoys improving others' living conditions to consider it as a profession. Bringing clean energy to places that need it brings me a lot of joy."
Oberg said Tiawara reminds him of Duffy.
"He's been with us two years and is an eager learner. He's learning under Jen and you can already tell that's rubbing off on Cedric," Oberg said.
Tyler McKinney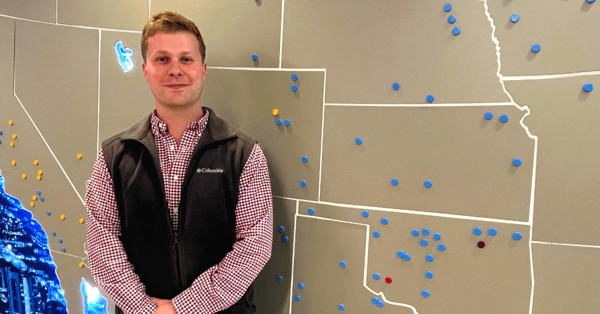 Blattner Senior Civil & Structures Engineer Tyler McKinney.
From field engineer to becoming a senior civil and structures engineer, Tyler McKinney has carved out a strong career path at Blattner.
The University of Alabama graduate, who earned a construction engineering degree, started working for Blattner in 2017 and has never regretted the decision to focus on renewable energy construction.
McKinney, an Alabama native, was in a construction internship and building apartments when he learned about Blattner. An electrical superintendent he was working with told him about opportunities at the company.
He was hired as a field engineer at a site in Florida and eventually moved on to different projects in Texas. McKinney was promoted to project civil engineer in January 2020 and then to his current position as senior civil and structures engineer in August 2022.
"I enjoy the magnitude of our projects. I work on the solar side and the challenge that goes into these projects is rewarding," McKinney said. "The time I spent in the field was so valuable for me. I cherish the friendships I made all over the country. Now I'm in the position to help find solutions to critical issues that arise during construction with our site teams.
"We are that reliable conduit of communications for our site teams to ensure we're in compliance with our clients during construction."
As a kid, McKinney used to sketch house plans on his parents' kitchen table. His dad was a home builder and he watched him design and build them at an early age. He recently built his first home with his dad. To him, his dad was the person who inspired him to get into construction.
"I went to a lot of job sites with him growing up. He was my hero – he taught me everything I know," McKinney said.
McKinney believes civil engineering is "the most admirable profession." Learning to build something that people rely on has great meaning to him.
"Without a civil engineer's roads, bridges, airports and other utilities, electrical engineers would be in trouble," McKinney said. "I always enjoy reminding electrical engineers of that."
Earning and maintaining trust with Blattner's clients is vital in McKinney's work. He credits Blattner for continuing to strive for excellence while identifying weaknesses to help improve their employees' knowledge and abilities.
"We listen and hear our clients' point of view. We focus on their expectations and deliver the ultimate objective of getting projects done on time and under budget," McKinney said. "There is always the negotiation part of that. But whenever they trust us, it allows us to show them what we can do – and that trust is everything."
Oberg credits McKinney for helping set a great culture in his department.
"He can work independent, but he's always happy to help. He's just an outstanding guy, very willing to work and a great teacher," Oberg said. "He's always coming up with new processes and methods for us."
To learn more about career opportunities at Blattner, click below.