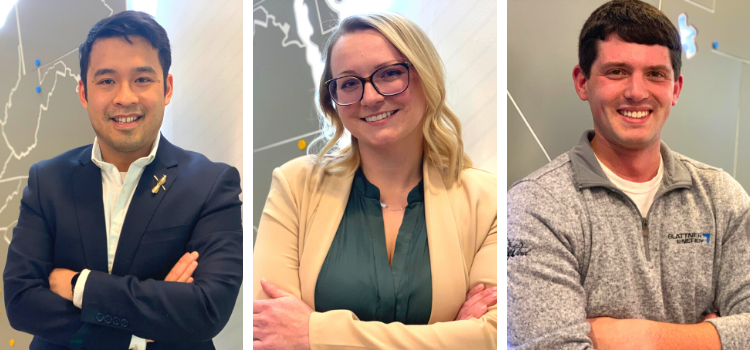 National Engineers Week: Celebrating Our Engineers' Work & Dedication.
Posted on February 21, 2022 | Culture, Careers, Character, Employee Spotlights
Samantha Eich-Tewalt wasn't supposed to be in Minnesota for long.
In 2019, Eich-Tewalt decided she wanted to move from Fairbanks, Alaska. She quit her job at a gold mine and drove south to the lower 48 with her dog.
Her initial plan was to settle in Idaho, but first she wanted to visit her family in Minnesota for a couple of weeks.
"When I got to Minnesota, I took a break from traveling and thought about applying at Blattner Energy. I got a phone call for a civil engineering position that was in the works, but not formally posted. When I showed up for my interview, I could tell what a great corporate culture had been built here."
After her interview, Eich-Tewalt knew she was a match for Blattner. She accepted the job and placed her roots in Minnesota. Now, she only thinks about visiting Idaho.
Eich-Tewalt is one of many engineers who make a difference for Blattner.
Forward-thinking engineers like Eich-Tewalt help us achieve our Purpose, Basics and Values. Whether they work in our corporate office, or are out in the field, engineers are part of a wide range of disciplines (electrical, civil and mechanical).
Blattner is celebrating all our engineers as part of National Engineers Week, which runs from February 20-26, 2022.
Eich-Tewalt, a University of Alaska-Fairbanks graduate and senior civil structural engineer, knows how vital engineers are to the renewable energy industry.
"Engineers influence designs that are economical, constructable and aid in a smooth permitting process with our knowledge of the design requirements of the project location," she said. "We are on the leading edge of the renewable energy industry here at Blattner. We are setting standards by constantly learning, adapting and being innovative."
Get to know some of our other engineers, who are collaborating to make a more sustainable future through clean and renewable energy.
Daniel kezar
From starting out as an engineering technician to now working as a civil estimating engineer, Daniel Kezar has experienced a lot in the professional engineering field since starting at Blattner in April 2019.
The St. Cloud State University graduate knows how vital an engineer's role is in every project, especially the ones working on the jobsite.
"All the work we do in project engineering is important and essential. However, we would not be able to build and continue to improve our designs without the support of the construction teams," Kezar said.
"Not everybody knows that we have a team of engineers (at our corporate office) in Avon (Minnesota) that puts together detailed civil, structural and electrical designs for almost every project that is bid on."
Kezar knows how tough it can be for engineers starting out. He feels lucky to have found work at Blattner where the culture is positive, encouraging and supportive.
"I've become a better engineer by working here," Kezar said. "Once you get your college degree, it will open many doors for you, including working at outstanding companies like Blattner."
VU TRAN
Blattner senior PV engineer Vu Tran was always inspired by LEGOs, math and reading Popular Mechanics magazine as a kid. So, it's not that big of a surprise that he's in his current career.
"I remembered when my mom took me to the grocery store, the first thing I always wanted to grab was the latest Popular Mechanics," Tran said. "I would start flipping through the pages and reading each detailed illustration of the machines in there while following my mom around the store."
Tran, who graduated from the University of Nevada-Las Vegas, has been with Blattner since June 2017. He is a little surprised that he ended up in Minnesota after attending UNLV.
"Blattner flew me up for an in-person interview and I received an offer the next day. At that point I thought to myself 'My God, I'm moving to Minnesota.' Five years later, I haven't regretted that decision for a minute," Tran said.
Tran is part of the Blattner preconstruction team. The most satisfying part of his job is getting to see the project that he's helped design go through construction.
"Our goal is to make sure the product that we are delivering to our client meets their needs, safety and code requirements," Tran said.
While delivering for the Blattner's clients is of the utmost importance, building chemistry with his co-workers is also key to creating a productive and fun environment.
"I really enjoy working in engineering. The people at Blattner are like my second family," Tran said. "We laugh, joke and support each other through some busy times."
Eich-Tewalt summed up what it's like to be a professional engineer perfectly.
"This is an extremely rewarding career," she said. "You're able to design and see the product you worked on come to life. There's really nothing like it."
To research possible career paths for you at Blattner, be sure to click below!