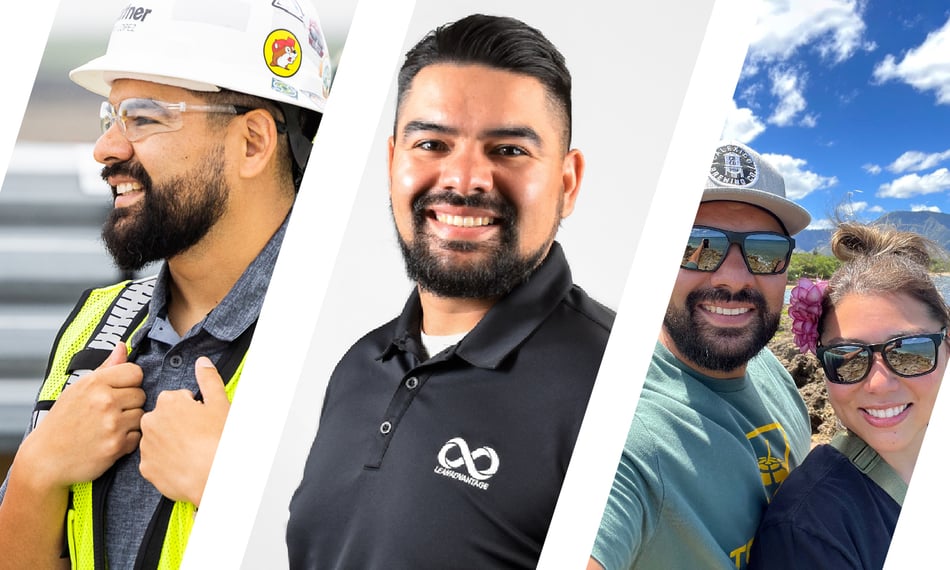 Hispanic Heritage Month: Blattner's Manny Lopez Follows His Own Path
Posted on September 13, 2022 | Blog, Culture, Careers, Employee Spotlights
Thirty-four percent of the Blattner workforce identifies themselves as Latino or Hispanic.
Hispanic Heritage Month is September 15-October 15 and celebrates the history, achievements, culture and contributions of Americans who come from, or whose ancestry, extends from Mexico, Spain, the Caribbean and Central and South America. Blattner is proud to recognize the Latino and Hispanic community and the role it is playing in building a better tomorrow through renewable energy construction.
When Manny Lopez hears that, it truly means something special to the site quality coordinator. Hispanic representation has grown across all levels and expertise in the renewable construction industry. The Calexico, California, native has been with Blattner for five years and he sees the value of the rich diversity at each renewable energy project he has been on.
"Blattner is willing to give everybody an opportunity to learn, regardless of their experience in the industry," Lopez said. "On the front line, we have a lot of Hispanic and Latino people. Of them, I would say 20 percent speak Spanish exclusively. Blattner works to ensure communication is inclusive."
For instance, Blattner incorporates Spanish on safety signs and site banners, even translating one of its recent Town Hall events into Spanish to make it as easy as possible for Spanish-speaking employees to understand the message and feel included and valued. Manny, himself, is a great mentor for Blattner employees who are Hispanic and Latino.
"When I go out in the field, I try to help translate when it is needed. I just want to help when I can," Lopez said. "That is important to me. Anything I can do to assist anyone who only speaks Spanish, I go out of my way to help."
The Early Days
Manny's hometown of Calexico is a border town between Mexico and California, about 100 miles east of San Diego. Lopez said it feels like you're living in Mexico because more people in Calexico speak Spanish than English. The main jobs are in agriculture and law enforcement, which played an important role in Lopez majoring in criminal justice at San Diego State.
"Looking back, I'm very grateful for where I grew up because I was able to be surrounded by English and Spanish speakers and was able to experience what it felt like to value the culture there," Lopez said.
As a young man, Lopez was inspired by his mother and aunt because of the love of their culture and their value of hard work. They didn't attend school in Mexico, but their work ethic is something that rubbed off on him.
"My mom and aunt have a relentless attitude, particularly my mom. She's a strong Hispanic woman. I've always been able to go to them with any struggles I had. They're my sounding boards," Lopez said "(Hispanic Heritage Month) is a great opportunity to recognize the sacrifices and contributions my parents (and other relatives) have made and look back at the progress that all Hispanics and Latinos have achieved in the United States."
During his college days while studying criminal justice at San Diego State, he also discovered a talent as a substitute math and Spanish teacher at a private high school where his aunt was the vice principal.
"She instilled a lot of confidence in me during that time. I was always really good at math, so that came natural to me," Lopez said. "She helped me get as many opportunities as possible and I enjoyed connecting with the kids I taught."
A Career Path At Blattner
Lopez moved to Texas in 2012 after graduating from San Diego State. He worked as a correctional officer for the Texas Department of Corrections for three years but didn't feel that career would be long-term for him.
"I was only 22 when I started, but I grew up quickly doing that work. The job matured me a lot, to say the least. It changed me for the better," Lopez said.
He went to work for Blattner in July 2017 when a friend referred him for a site material control specialist role. In that time, Lopez has climbed the ladder multiple times, advancing to become a field instructor, field construction coordinator and to his current role of site quality coordinator.
"I took a leap of faith. My wife (Stephanie) and our house were in San Antonio, and I left to work on the road for Blattner full time," Lopez said. "I've been able to grow with the company while learning a lot. I never thought I'd be in construction. When I came here, it was like learning a new language. We definitely didn't use these (construction) terms in criminal justice classes."
Lopez credits "plenty of people" who have helped him along the way at Blattner. He's worked on nine different renewable energy projects and is currently at a solar site in Texas. He and his wife now live in Henderson, Nevada, near Las Vegas. Whenever he talks about his work to his family and friends, he's always surprised by how little people know about EPC scale renewable energy construction.
"Most people think I'm talking about installing solar panels on homes," Lopez said with a laugh. "I tell them I'm out in the field doing it on a much larger scale.
"Most Hispanic and Latino communities like where I am from are tight-knit and people aren't always willing to leave for something they don't know much about. I was willing to take that jump. Even though it's rewarding work, it can also be tough. Living away from home is not the easiest thing for (Stephanie and I), but we do get rotations to go home often.
Lopez is grateful that the Blattner culture makes the teams he works with on the road feel like family.
"I've seen people thrive at Blattner. They get promoted within the company and that makes me feel good. The culture of teaching here, and taking someone under your wing, is evident all over," Lopez said. "More people are understanding the importance of renewable energy now.
"I'm willing to teach my family and friends about it. In that way, I'm still a teacher."