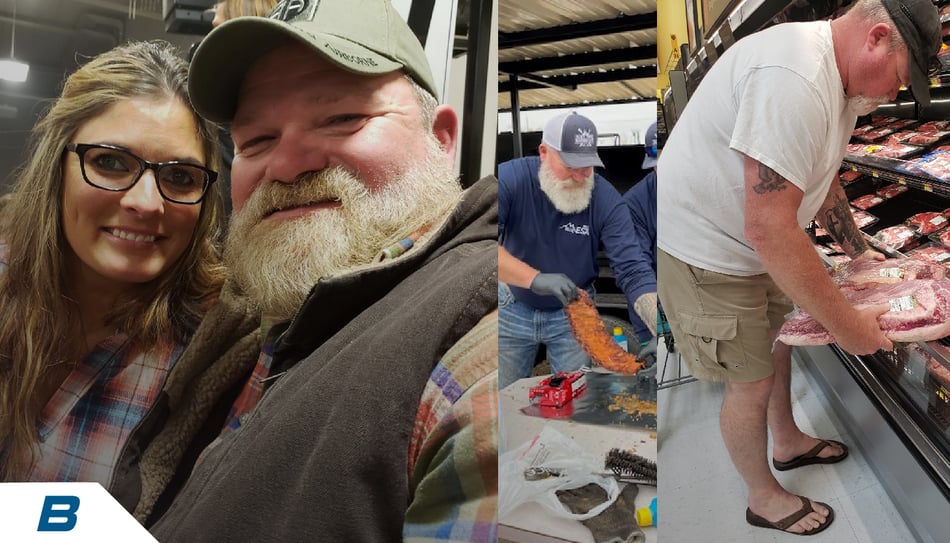 BBQ Business Dream Comes True For Blattner Family
Posted on January 23, 2023 | Blog, Culture, Community, Careers
Doug Insley enjoys his life on the road building both clean energy and, as it turns out, a tasty new BBQ business.
When you work for one of the busiest and growing renewable energy companies in the nation, you go where the work takes you. Having worked for Blattner Energy as an electrical professional for the last 13 years, Doug has been able to experience many different parts of the country from South Carolina to California and picked up a passion for cooking along the way.
"Being on the road with Blattner building massive energy projects means you often find yourself in pretty remote locations, far from restaurants or even grocery stores," he said. I started grilling meals for my team members on-site, and it has escalated into a full-fledged side business," Doug said. "In a way, Blattner has helped me become a small business owner."
Blattner Leads to BBQ
Doug grew up in Virginia and went into the Army when he was 18. After six years in the service, which included Operation Desert Storm (the Persian Gulf War), he started his first construction job in 1996. His first job was in electrical, which led to steady employment in Oklahoma for 12-plus years.
After being contracted to work on a renewable energy job site in Oklahoma, he learned up close and personal how Blattner operated and liked what he saw.
"I was doing some work on a wind farm in Oklahoma because, at that time, Blattner was contracting out construction professionals with electrical licenses in the state," Doug said. "In 2009, I became a full-time field employee. I started with an orange hat, moved to a yellow hat, then became a foreman and was promoted to electrical superintendent in 2015. I've done work on 35 different projects, from solar to wind."
Doug became an electrical superintendent for Blattner in 2015. His favorite stop along the way came in 2012 when he was working on a wind project in Limon, Colorado. There, he met Holly, and the two hit it off. She was working at a local restaurant at the time and had children in high school, but they found a way to make the relationship work between their schedules.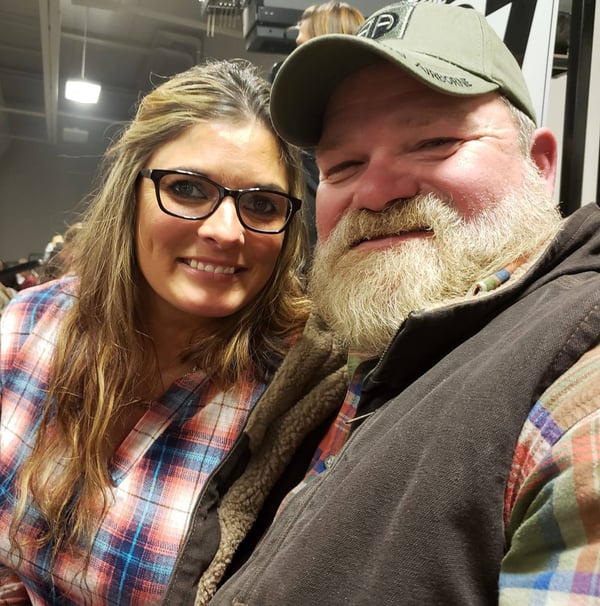 Blue Mesa BBQ owners Holly and Doug Insley.
"She came on the road with me after her kids graduated," Doug said.
Holly took a job with Blattner as a bulldozer and roller operator. The two married in 2016. Holly enjoys working on the civil side of renewable energy construction.
"I run equipment and I love it. I'll do whatever is needed of me. I've done rolling, dozing, labored a little and helped in the office," Holly said. "I married my husband to be with him. I'm lucky in that aspect that being part of Blattner allows that to happen. I wouldn't have it any other way. I like life on the road. Blattner employees are like family to us."
A Passion Comes To Life
For Doug, starting a BBQ business was a long time coming. While traveling the country, his fascination with how BBQ was made grew and grew. He started to notice the differences between east coast, Texas and Kansas City-style BBQ and had an appreciation for each.
At first, running a smoker or grilling BBQ was just a hobby for him while he was on a job site. In 2021, his dream of running a business came true with the creation of Blue Mesa BBQ, which is named after the Blue Mesa Reservoir in Colorado.
Since that time, the Insleys have done catering work, along with setting up shop in local restaurants and bars around their home in Limon. When they're at home during odd times of the year, the Insleys use a trailer for their catering gigs around Limon.
"This year was our first year of production," Doug said. "We've kept it small because of our work schedules. No matter what we're doing, we're always cooking. We're looking at eventually having some brick-and-mortar locations in Colorado after we retire."
Holly handles most of the sales opportunities for Blue Mesa while Doug handles all the smoking and cooking. They're open to catering, depending on their schedules, for events and weddings. The Insleys have even been hired by Blattner multiple times for employee lunches and dinners.
"When I have a day off (from Blattner), I'm grilling on the smoker. I take it wherever I am – in Colorado or on the road," Doug said. "I'll save a lot of it for the crews on site. They love it. Their first reaction is to always bring more with me. That makes me feel good."
Holly enjoys supporting Doug's passion. They shop together to find the best deals on meat and anything else that helps in the smoking process. Holly also handles the business's Facebook page.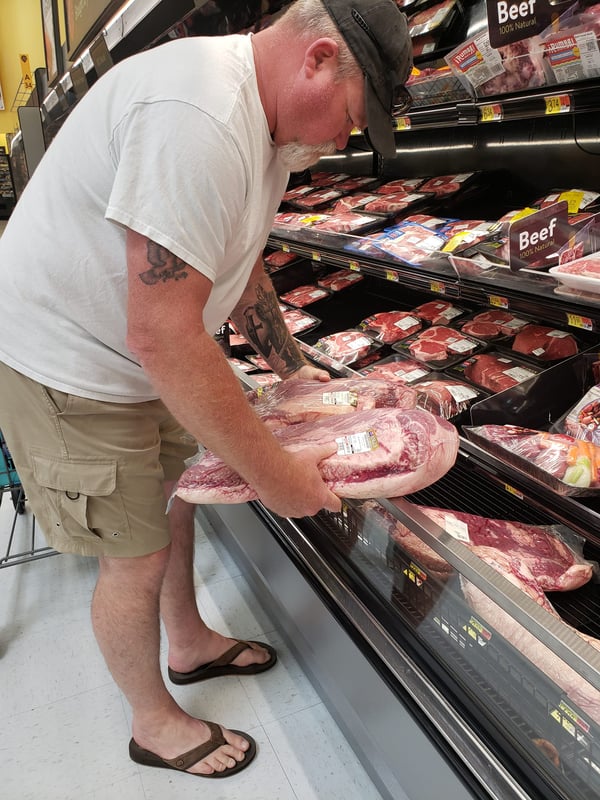 Doug Insley buying meat for his next Blue Mesa BBQ catering job.
"I try to help him any way that I can," Holly said. "His food keeps getting better and better. His passion has become mine too. This has been a gift for us. We work well together. He's got my back and I've got his. This is something we always look forward to doing together."
The Secret Sauce
What's the secret to Doug's success as a BBQ expert? Well, he won't give away a lot, but he's happy to share how he got to his recipes.
"BBQ is a competitive deal," Doug said with a smile. "You don't want anyone to find out your trade secrets. I've only let a few people inside the circle. I show them a little, but not a lot."
Doug grew up on the east coast in Virginia where BBQ recipes were mostly pork and mustard based. When he started working in Texas, he compared east coast BBQ to Texas BBQ and determined that combining the two made a lot of sense.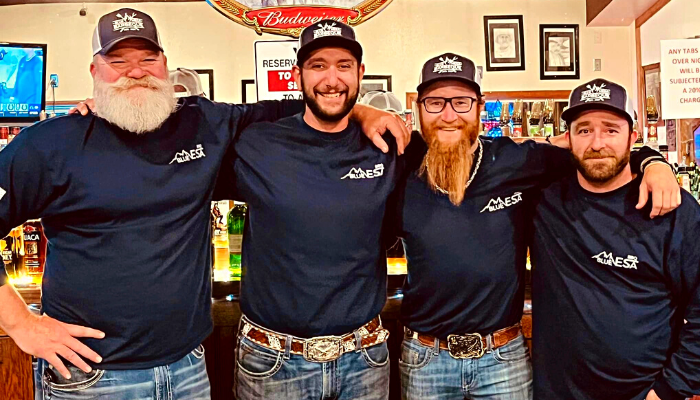 Blue Mesa BBQ owner Doug Insley (far left) stands with his catering crew (Dave, Jared and Sam) at South Side Food and Drink in Limon, Colorado.
"The thing that makes Blue Mesa unique is how we enhance east coast BBQ with a Texas flair. With beef, nothing will beat it on a stick burner like they do in Texas. When it comes to pork and chicken, east coast style has everything beat. That is whole hog BBQ served with vinegar and pepper sauce. Kansas City BBQ is sweeter, just like most of the Midwest," he said. "The Midwest isn't looking for that hard, smoky flavor."
Most of Blue Mesa's customers are partial to the pulled pork and brisket. To Doug, having a good BBQ business starts with having great brisket and ribs.
"It depends on what I'm cooking, but my pulled pork has that east flair to it and my brisket is straight up from Texas with that spicy, smoky flavor to it."
Doug uses a straight stick burning smoker to do his work. It's all about timing when he's smoking meat. He checks the smoker every 15-20 minutes to make sure it's not getting too hot, otherwise the meat will dry out. The entire smoking process lasts between eight and 16 hours, depending on what he has on the grill.
"It takes dedication," he said. "I usually start on Saturday night and finish up mid-day Sunday."
Growing up in Denver, Colorado, Holly was never much of a BBQ person. But after trying Doug's BBQ for the first time, she became enamored with what he does.
"The flavoring is excellent," she said. "I've never heard a complaint from a customer. They always say they wouldn't change a thing. He's made me into a BBQ person. The brisket is one of my favorite things that he cooks. It's so great."
All In The Family
Doug's time-management skills have improved greatly since he started taking his hobby to new heights. When you have two different jobs, that comes with the territory. He already had some of those skills having raised five children, ranging in age from 25-33. Three of his kids – Derick, Devin and Timothy – have all worked in renewable energy construction for Blattner. Derick is currently a bulldozer/motor grade operator for the company.
"I fit the BBQ business around work," Doug said. "You learn a lot about yourself when you're running a business while having another full-time job. You have to learn how to draw a line between work and your personal life."
Together, Doug and Holly have worked on Blattner projects in Texas, Iowa, South Carolina, Colorado and Kansas. Doug wants to keep working in renewable energy construction for at least another decade, so the expansion of Blue Mesa BBQ will take a while, unless some family members to step up and help out."
"I've got two kids who might be interested," Doug said. "It's a team effort as a family when we're all together. We also have help from the Blattner family in supporting the business. Once you have that road family built up, that goes a long way. It's not always about the paycheck with Blattner. It's about people relying on you and you taking care of them."
Learn more about open positions with Blattner by clicking below!