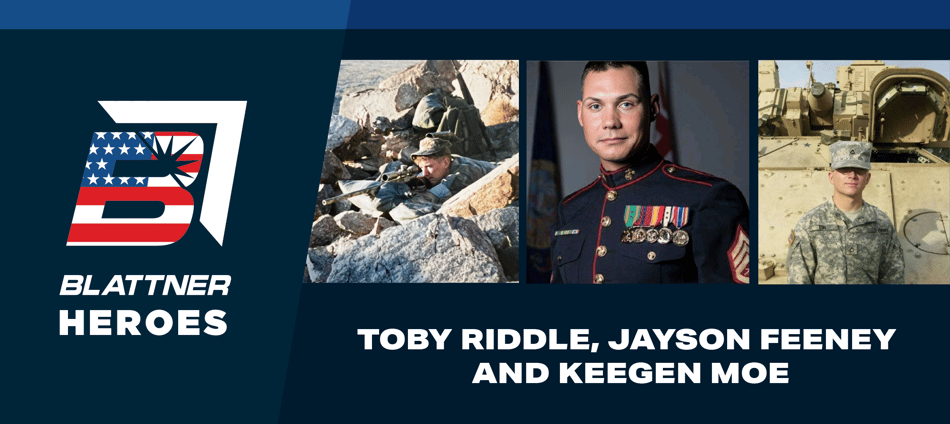 Honoring our U.S. Military Veterans During Military Appreciation Month
Posted on May 19, 2023 | Blog, Culture, Community, Careers
More than 200 U.S. military veterans are currently employed at Blattner. They are an important and integral part of the fabric of our corporate and field teams. During Military Appreciation Month, we are honored to share a few of their stories. Thank you to all of our veteran employees and to all current and past service men and women who have served in our nation's military.
Applying Leadership Learnings and a Common Purpose
The U.S. Marine Corps' motto is "Semper Fidelis" ("Always Faithful"). It embodies the values of honor, courage and commitment. Jayson Feeney, a Marine and now supervisor of field training at Blattner Company, shares a slightly different motto with his Blattner team: "Semper Gumby."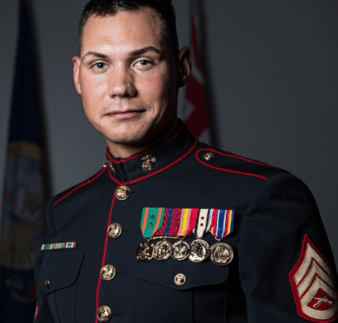 "It means 'always flexible!'" laughed Feeney. "In construction, we have a hierarchy like we do in the military, and nothing goes as planned, just like in the military. You have to be adaptable and flexible to change, and that's a really important value we stress together as a team."
As a Marine for 15 years, Feeney honed his own adaptability, time and again. After graduating from high school in Vancouver, Washington, he joined the Marine Corps.
"I figured I'd join the Air Force because I heard my grandpa's stories about his time there," said Feeney. "But my friends on the football team were joining the Marines, and they convinced me to do it too. I ended up serving longer than any of them!"
Logistics and Leadership
Following basic training, Feeney was deployed to Okinawa, Japan for maintenance management work. Logistics was his primary field for his entire military career.
"Being a maintenance manager is a unique position because you're inserted into a command and you become the advisor for equipment commodity managers and the commanding officer," said Feeney. "You advise them on maintenance programs and help with policies, procedures and analysis. We had a 'fight tonight' motto and so all equipment had to be at least 90 percent ready. Marines had to be able to deploy in less than 48 hours."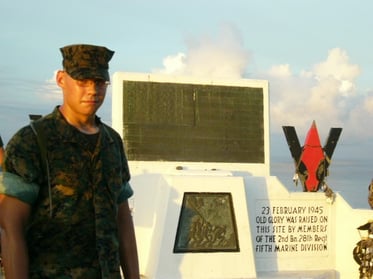 Feeney trained others on maintenance and supply systems, Lean concepts, as well as designed his own trainings. He supported operations in South Korea, Thailand, Australia, the Philippines and the U.S. He had two combat deployments to Iraq before eventually returning to Okinawa.
When he had the opportunity to be assigned to the Marine Corps Training and Education Command (TECOM) for instruction and training, he jumped at the chance. He learned from retired Marines and other individuals with the highest degrees in their field. As a result, Feeney's training approach shifted.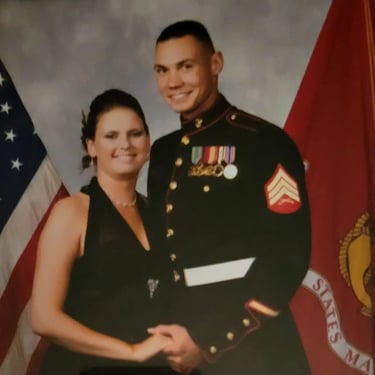 "That was a pivotal moment," recalled Feeney. "I had originally learned how to train from the people who trained me, and that was with an authoritative approach. But at TECOM, I learned the concepts of adult learning theories. I learned to create an environment that encourages people and how to create programs that will stick with people. Without that training and the opportunities it's created for me, I honestly don't think I would have adapted as well to a civilian lifestyle."
Feeney departed the Marines in the rank of Staff Sergeant E6. "When I chose to leave, it was on a really high note," he said. "The command I was working with received the highest scores they'd ever seen for their maintenance readiness program."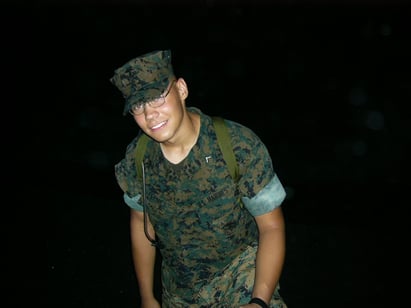 Feeney wanted to continue his training career in civilian life and felt he could contribute a lot to Blattner's program. Based out of Avon, Feeney began as a field instructor and was soon developing and supporting the Lean advantage program.
"I was traveling to a lot of job sites and realized I couldn't be everywhere," he said. "So we started the Field Training team. That means we trained employees to be the trainer on the job site, which is a more sustainable way to do it. I designed that program and have had the privilege to lead the entire team."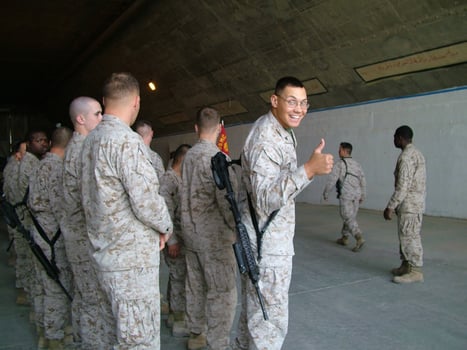 Going on five years with Blattner, Feeney appreciates the leadership training he received in the Marine Corps. "You learn to be an advisor, not just a manager," he explained. "It's the people who allow the processes to work. You have to understand how to support and guide them, so they can make smart decisions and manage the processes really well. It's about asking them how they can be supported instead of, 'Why aren't you hitting your goals?'"
Working toward a common purpose
To Feeney, one of the greatest things about the military is how so many people from diverse backgrounds come together and get a job done. "Everyone just works, and it's amazing how well we see beyond differences," he said.

The Blattner HEROES program honors that unique experience and recognizes veterans' sacrifices. "The program lets vets connect. We can share experiences and knowledge with the only people who really understand what we're going through."
Feeney views Blattner's purpose – Leading America to a Clean Energy Future – as something bigger than clean energy. "It's not only about Leading America to a Clean Energy Future but how we go about it," he said. "We should always be leading by example. In every place we work, we should be that leader who leaves the people and places better than before. It's about enabling them to lead the way."
A BLATTNER VETERAN'S COMMITMENT TO BUILDING BONDS AND SERVING OTHERS
Tradition runs deep for Toby Riddle, a site manager with Blattner Energy. After graduating from high school near Cody, Wyoming, Toby enlisted in the United States Marine Corps, following in the footsteps of generations before him.
"My grandfather was in the Marine Corps in World War II," said Riddle. "My father and uncles were in the Army. I saw a rich history and camaraderie in the military, and so I joined the Marines."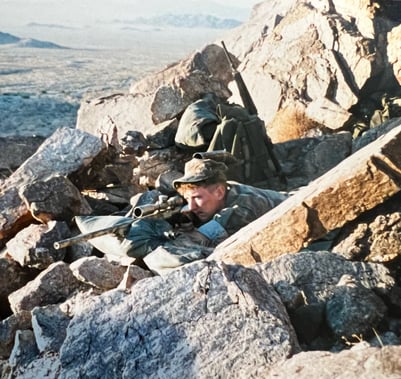 The military was an eye-opening experience for Riddle; one he says he knew he needed. He was exposed to new people, situations, environments, and ways of thinking. After bootcamp, Riddle went immediately to infantry training. Upon arriving at 2nd Marine Division, Riddle was indoctrinated into Scout Sniper School and was eventually deployed to Desert Storm as part of the 3/6 Scout Sniper Platoon.
"After Desert Storm, I went to Somalia, Rwanda, and then had a couple of deployments to Bosnia, followed by Haiti," he recalled. "I returned to the U.S., reenlisted, and was then indoctrinated into the 2nd Recon Battalion."
Riddle completed training at the Marines' Amphibious Reconnaissance School (ARS), then received orders to attend the Marine Corps Mountain Warfare Training Center in California. His time there included leadership training in summer and winter operations, along with instructing a mountain sniper package. As part of an international exchange program with the British Royal Marines, Riddle cross-trained with a Commando unit in the U.K.
"We worked with their snipers on urban warfare and tactics," Riddle explained.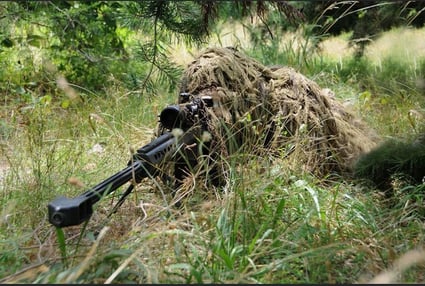 Blattner: "A Culture of Learning and Teaching."

After 10 years of service, Riddle was honorably discharged from the U.S. Marine Corps at age 28.
"I chose not to reenlist," he said. "I was married and had kids. I'd seen my share of combat tours. I was a Staff Sergeant Select, and I left with a good taste in my mouth."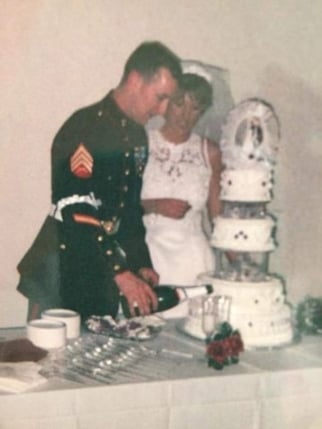 Riddle says he wishes more people understood the unshakeable bonds that develop between soldiers.
"The camaraderie and relationships you build are for a lifetime," he explained. "They're not something you just walk away from. Those people are my family, including the ones who aren't with us anymore. Even the worst of times created some of the best memories. You gain such an appreciation for what we have here in the U.S. We have privileged lives."
After discharge, Riddle worked for petroleum and coal mining companies. Then he found Blattner and recognized something he'd been missing.
"With Blattner, I see the strong bonds and relationships between our teams and with our customers," he said. "Everyone cares, and they're ready to help. Your success is their success, and this is one of the first places I've worked in that feels like that."
After a decade of constant change and learning in the Marines, Riddle is happy that Blattner encourages new skills and experiences.
"They promote this culture to build yourself," he said. "If I ask about anything, there are people ready to jump in and teach me or make me better. There's a real culture of learning and teaching."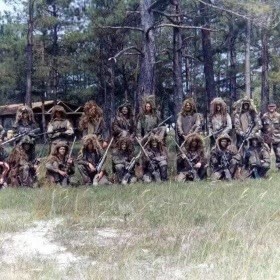 Today, Riddle is working on a solar project in Arizona and resides in Billings, Montana. He thinks about the lessons he learned in his military career and how they apply in the renewable energy industry.
The military gave me the confidence to learn and manage different trades, and to multi-task," he said. "You learn to put together a very complex plan that involves a recon unit, troop coordination, intel, air support, etc. I can apply that to Blattner as I coordinate with civil, electrical, installation…everything has to go in sequence to reach a goal."
Riddle also reflected on learning not to make decisions too quickly; to be thoughtful and careful with your decision-making process, because the repercussions could be felt for a lifetime.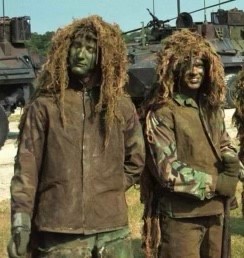 "We were under fire in Somalia at one point – getting shot at and mortared," he recalled. "I was asked if we needed air support and I hesitated because I didn't have enough knowledge of the situation, even though I really wanted to give the green light. It turned out that there was a Nigerian base nearby and those people would've been collateral. If I had made a decision too quickly, it would have changed the lives of so many people."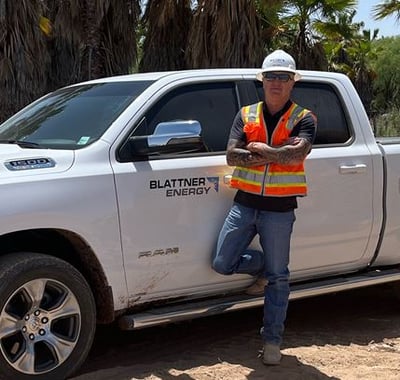 A Commitment to our Country
Blattner's purpose of Leading American to a Clean Energy Future strikes a chord with Riddle.
"We're not just building solar, energy storage and wind projects," he said. "We're getting people to work and we're making the world a better place. If we can leave the world a cleaner place for our kids – if we can take what was built and build it better – that is the greatest purpose."
BLATTNER VETERAN INSPIRED BY TRAINING TEAMS FOR ADAPTABILITY AND EXCELLENCE
The importance of good planning and adaptability was drilled into Keegen Moe when he joined the Army in 2013.
"In the military, you're trained to always be ready when things go sideways. You train your people for their current position and two positions ahead so they can step into a leadership position right away if needed," said Moe, now an electrical lead with Blattner Energy. "For example, if you have a saw gunner in your squad, you train them to be a fire team leader and a squad leader. It's one of the things that makes the U.S. military so effective.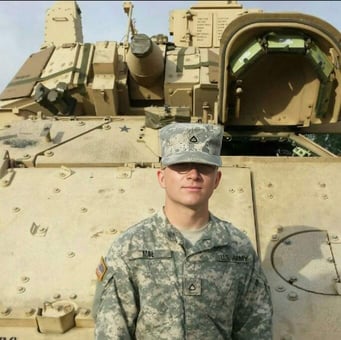 Originally from Bemidji, Minnesota, Moe joined the Army when he was 18 years old. "I had an uncle who was a sergeant major and I was always playing Army as a kid," he explained. "I hoped to be a helicopter pilot, but I had bad eyes so I became an infantryman instead."
Moe served four years in the U.S. Army. After basic training and infantry school, he served abroad. He left the military in late 2016 with the rank of E4.
"There are good and bad things about serving in the military," he said. "The bad was horrible and the good was awesome. I experienced so much and learned that life could definitely be a lot worse. Humans are very resilient. I came out of bad situations and am a better person because of it."
​​​​​Moe received extensive leadership training throughout his military career, as well as taught and trained fellow soldiers. He appreciated watching individuals develop and grow.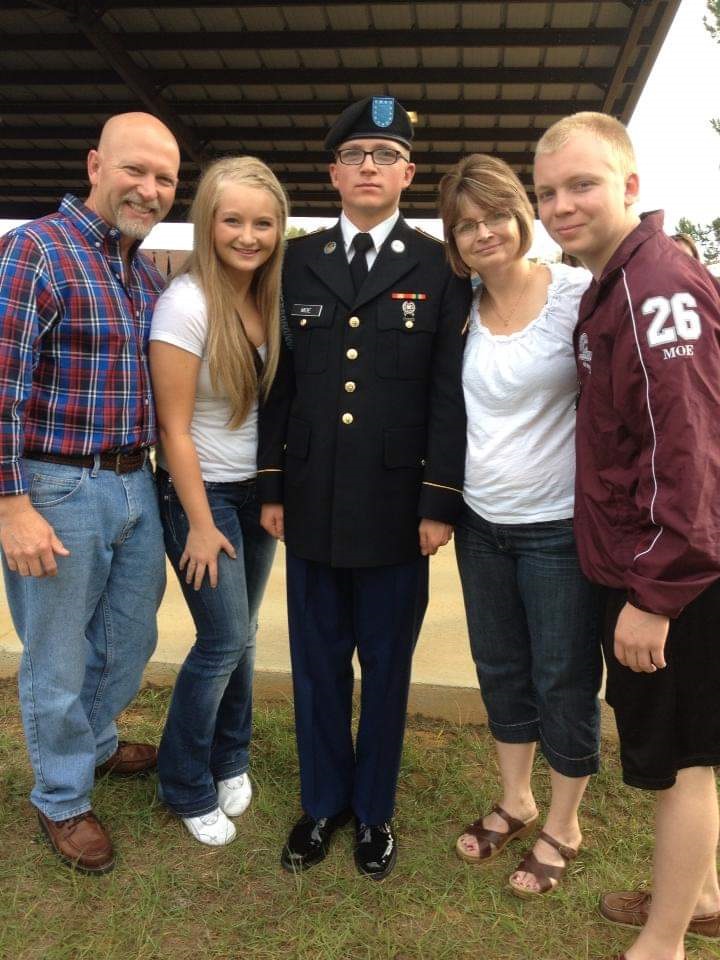 Leading by Example
As an electrical lead with Blattner Energy, Moe is currently working on a solar energy project near Temple, Texas. He works mainly on solar, but also has experience with wind and energy storage.
"When I got out of the military, my brother was working at Blattner and tried to get me to work there too," said Moe. "But I joined a pipeline company for a while and also started a company with my buddies. I eventually decided to try Blattner. They trained me and my first project was Pecan Solar in North Carolina in 2018."
As an electrical lead, Moe has deep knowledge of the workings of solar energy. His specific duties vary depending on the project and the day, and he leads teams both through his training skills and technical skills.
"In the pipeline they call us a straw boss," he explained. "I'm not a full foreman yet, but I'm someone who can manage people and tasks, plus step in and do the tasks myself."
​​​​Moe draws on his military leadership training to lead and improve others. "I like to train people, and training those under me is how to improve myself and others," he said. "The military taught me how to switch from being emotional to being informational in order to get a job done – in other words, don't mix emotions and business!"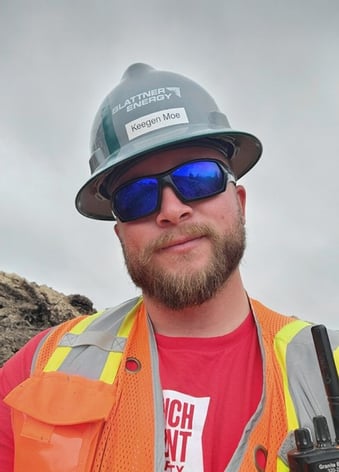 Leading Teams to a New Energy Future
​​​​​​​Moe sees renewable energy as a great employment and career path because of its challenges and opportunities for advancement. "I love training people and watching them improve, as well as improving processes and tasks," he said. "I've been with Blattner for five years and I genuinely enjoy my job."
Blattner is a great environment for U.S. military veterans who are looking for a career that involves teamwork, is centered on a brotherhood and sisterhood of safety and promotes building a better future for our country. A HEROES Employee Resource Group meets monthly and provides resources to veterans and veteran families. Current active military members also receive military leave benefits if they are called to duty while they are working at Blattner.
Explore more about careers with Blattner by clicking below!