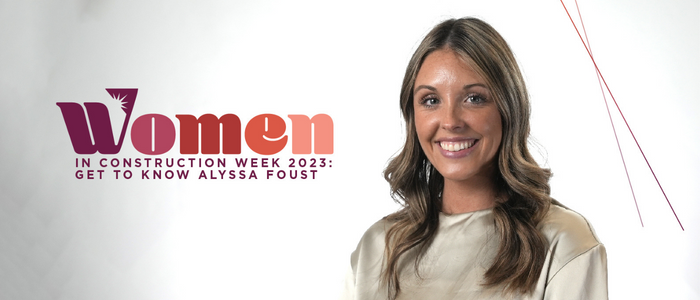 Women In Construction Week: Investing In Renewable Career Pays Off
Posted on March 7, 2023 | Blog, Culture, Clean Energy, Careers, Character, Employee Spotlights
There is something to be said about wanting to be part of something bigger.
After graduating high school, Alyssa Foust considered pursuing a career in psychology or dentistry because of a general interest in both careers. But the more she thought about it, the more she realized she wanted to begin her career by working outdoors. It didn't hurt that there were renewable energy job opportunities not far from her hometown.
The Marion, Ohio, native found an opportunity at a Blattner Energy solar project near Bowling Green, Ohio, in 2016 and hasn't looked back. She started as a wire management laborer and has worked her way up to being a commissioning superintendent. Foust's story of discovery and perseverance is one worth highlighting for Women In Construction Week 2023 (March 5-11).
"My passion for renewable energy – and renewable energy construction – has grown since I started at Blattner," Foust said. "I like working for one company that I love, and seeing what the next adventure is going to be."
Women In Construction Week celebrates and promotes the role of women in the construction industry. This year's theme, "Many Paths, One Mission," celebrates the different journeys women have taken toward the same goal: strengthening and amplifying the success of women in the industry. Blattner is proud to celebrate the role our female employees play in leading America to a clean energy future!
Forming Strong Bonds
Since 2016, Foust's renewable energy construction journey has taken her to Texas, Florida, Mississippi, Illinois, Indiana, Minnesota, Wisconsin and California.
As a commissioning superintendent, Foust's main role is to help perform testing and the eventual energization of Blattner solar power grids on projects throughout the country. She was promoted to commissioning superintendent after being a commissioning foreman and a commissioning lead.
"When I'm on a job, I'm always out talking to the testing crew, and we go over safety and quality and what they're doing that day," Foust said. "The biggest thing for me is following up with the foremen from all the different sites to make sure everything is going smoothly. I want to see how I can help. There are only three commissioning superintendents in the company and we're a close-knit group."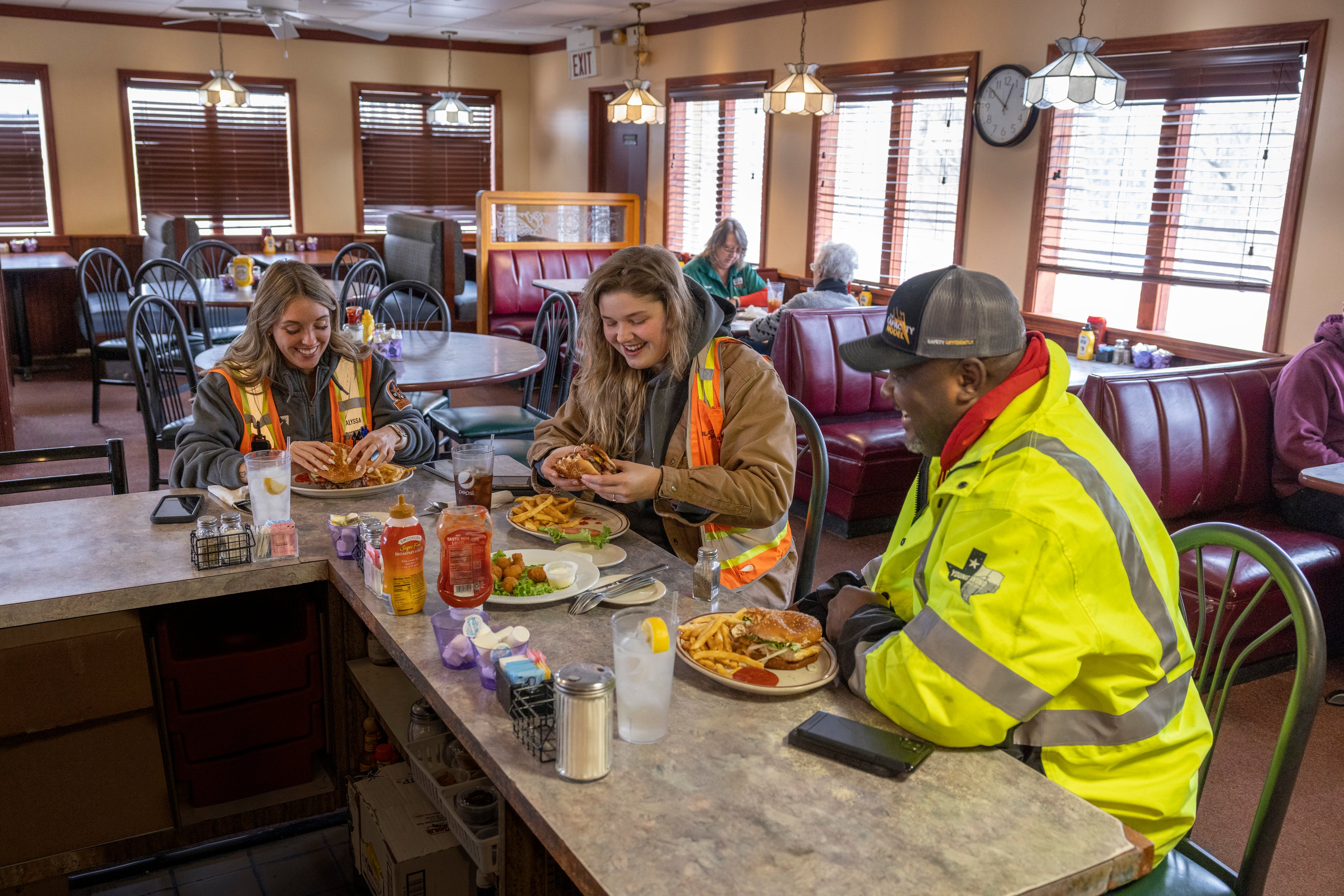 Blattner Commissioning Superintendent Alyssa Foust (far left) eats lunch with co-workers Kendall Beard (middle) and Chris Redd at a local restaurant in southwest Indiana.
Foust enjoys her job because she learns something new every day. She formed strong bonds with her co-workers to create working relationships that she cherishes. But being a woman in the construction industry isn't always easy. According to the U.S. Bureau of Labor Statistics, a mere 10.9% of the construction workforce in the country is female.
Foust has been able to find her footing – and her voice – through strong female – and male – mentorship within Blattner.
"Since I started here, I've learned how to be a professional person," Foust said. "I've gotten to know my audience and how to speak in meetings. I use my voice and I've become confident with it. Working at Blattner has truly made me a confident person."
Importance Of Mentors
Foust tries to mentor her female co-workers whenever possible. Her advice to women who are just discovering the opportunities within construction is simple: Be yourself.
"Breaking stereotypes isn't easy, but you can't be afraid to ask hard questions and take advantage of an opportunity," she said. "There are no limits to how successful you can be. I'll admit to being timid at first. I struggled with confidence being a woman in the field. I also didn't go to college, which is a huge deal. There are times I felt like I didn't belong in the room because of that.
"But I went to meetings. I gained my voice, gained confidence and started to speak up. Once I found my confidence, it was a huge transition for me."
Foust credits Blattner employees Jose Valdez (commissioning superintendent), Terry Travelstead (commissioning principal), Brandon Bruski (senior director – solar construction), Tyler Overman (project manager) and Tiffany Jones (electrical foreman) for being strong mentors.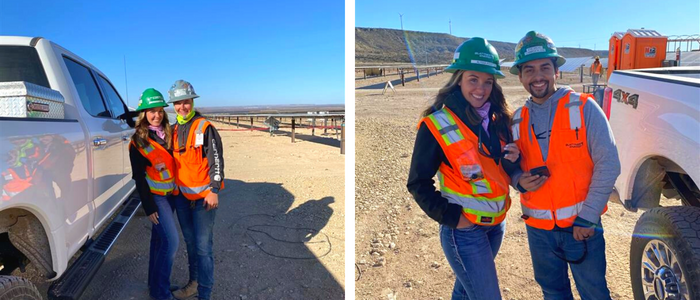 Blattner Commissioning Superintendent Alyssa Foust on solar energy job sites with her co-workers.
Foust worked with Valdez when he was a commissioning foreman, and she was a tester on a solar project in Texas. Valdez is the one that asked Foust if she would like to become a commissioning foreman after that Texas project was finished. Valdez could tell that Foust had a strong drive to succeed in her career.
"It's a common misconception that women can only perform certain tasks in construction. Alyssa is a true testament that anyone, regardless of gender, can excel in this industry," Valdez said. "She is dedicated to performing at her best. I'm extremely proud of her. I may have opened the door for her, but she's the one who walked through. The sky is the limit for her."
Jones met Foust in 2017 at a solar site in Florida and saw how hard of a worker she was from the beginning.
"Construction can be very difficult, but if you work hard and prove to yourself that you can do it, the work becomes easier," Jones said. "I always told Alyssa to make sure she gives it her all at whatever she does. She put in her time to get where she is today. I'm very proud of her accomplishments."
Foust's mentors all helped create a culture of encouragement for her.
"We support one another and understand everyone's roles on a site. This company taught me that. I try to encourage everybody I work with because I learned from the best," Foust said."
Growing Professionally
Foust's resume continues to grow, as she recently became a certified commercial drone pilot for Blattner. She's one of three certified drone pilots in the company. She's looking forward to learning more about her new skill.
"We're going to start doing aerial flyovers over our sites instead of using a subcontractor," she said. "We're growing so quickly as a company, so adding skills when you can is a huge plus. Everyone knows we have a lot of work coming up. When we can do things in-house like that, it makes us stand out to our customers."
Foust sees herself as a leader who can continue to share her expertise and experience while exhibiting Blattner's Basics and Values. Foust enjoys being in a commissioning role so much that she wants to keep expanding what the job's duties entail.
"The commissioning team is newer, but I feel like we've come in really energized. Our department stands out because we're making a difference in how we work," Foust said. "Need some drone footage? I can handle that."
To learn more about career opportunities with Blattner, click below.