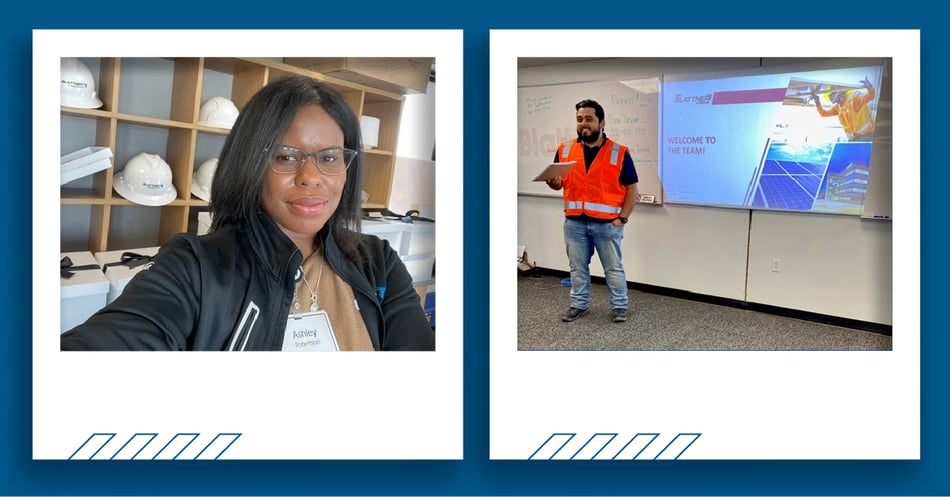 Blattner's Onsite HR Specialists Making Difference For Field Employees
Posted on April 13, 2022 | Blog, Culture, Careers, Employee Spotlights
When employees that work out in the field and on-location have a question about benefits – like medical care or vacation time – finding the right person to talk to isn't as easy as walking down the hallway for those who work in office settings.
Blattner has recognized this issue by bringing in resources in the form of onsite human resources specialists.
The other side of the coin in making this change to Blattner's field teams was finding the right HR specialists who would fit into the company's culture.
Ashley Robertson and Kevin Herrera were both hired recently by Blattner as onsite HR specialists.
For Robertson, after years of working in healthcare administration, being able to adapt and grow with a renewable construction company was something she was excited for.
"My experience adapting to change and growth at my previous jobs has prepared me to work for Blattner," Robertson said. "It feels like Blattner has invested a lot of time in cultivating a family-oriented culture."
Herrera had seven years of experience in human resources positions before joining Blattner. Getting to work in a new position for a growing company was something he was looking for.
"I knew that being onsite would be a new experience for all of us," Herrera said. "It's exciting to see the impact this position is having on the field and seeing how we can grow in our roles."
Positive Feedback
The onsite HR specialist role allows one-on-one, in-person meetings so field employees can better understand benefits and regulations while also helping to streamline processes and systems on the job site.
Robertson and Herrera have received positive feedback from the field since they started on their sites. Robertson is at a solar project in Hill County, Texas. Herrera is located at a solar + energy storage project in San Bernardino County, California.
"It happens often where someone will thank me for all the work that we are doing," Robertson said. "Everyone in the field refers to each other as 'brothers and sisters.' Most everyone is away from their families here and Blattner becomes their home away from home. Everyone looks out for each other."
The welcoming culture from his new co-workers helped set Herrera at ease right away.
"It was so welcoming here. We all look out for each other and the friendships we're building go beyond our jobs," he said. "I've been receiving a lot of positive feedback out here."
A Typical Day
Herrera feels like the training he received at the corporate office before going onsite helped paved the way for success.
"That gave me insight on nearly every situation possible and how to execute day-to-day projects effectively and successfully," he said. "This is a high-demand position, and it was needed greatly to support onsite operations to help achieve our goals while carrying out business functions. We're a team with a common goal for success."
The typical day for an onsite HR specialist usually looks like this:
Arrive onsite and attend meetings with managers
Attend a weekly all-hands meeting to encourage the team and discuss HR updates
Attend orientations for new hires throughout the week
Process employee paperwork, including payroll filing
Connect with the project construction coordinator and site manager
Attend corporate HR meetings virtually
Reach out to payroll, benefits and employee relations for any questions or concerns
Get out in the field to observe what's happening while meeting with employees
Create continuous improvement by creating, developing and implementing processes to improve communication and organization
Even though the elements of working onsite are different from working from in an office, the questions HR receives are almost universal.
The most common questions the onsite HR specialists receive from employees include:
Can you help me with direct deposit, an address or W-4 change?
Can you help me apply for a growth opportunity within the company?
How do I refer friends and family to work for Blattner?
"We support the business needs by being a corporate liaison to the project site," Herrera said. "We want to reassure that all HR services and deliverables are implemented and communicated by seeing that we remain compliant in all that we do."
To learn more about all of Blattner's open HR positions, click here.