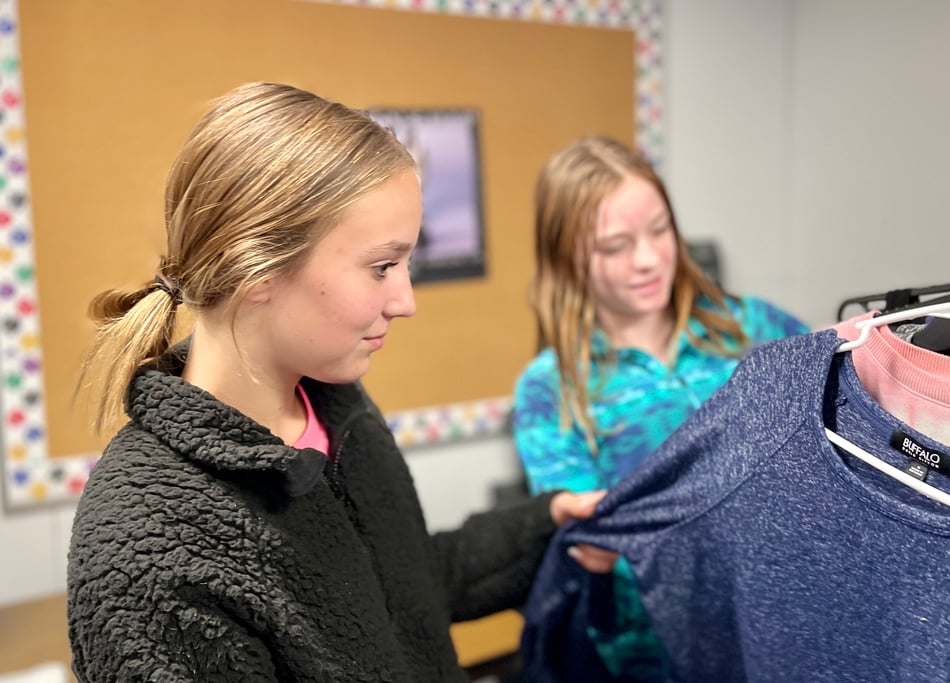 Blattner Donates To Oregon Middle School's Uplifting Charitable Cause
Posted on April 24, 2023 | Blog, Culture, Community, Character
In small communities, helping each other comes naturally.
When Blattner Energy Site Manager Keegan Kennedy and his team were researching ways to give back to the communities of Athena and Weston, Oregon, they came upon a student project that caught their eye just before Thanksgiving 2022.
Kennedy and his team were working on a Blattner wind energy project in northeastern Oregon, located near Athena.
"When we found out what the Weston Middle School was doing and helping out kids in need, we thought that was tremendous," Kennedy said.
Blattner donated $1,000 to Weston Middle School's TigerScot Treasure Trunk. The Treasure Trunk offers a variety of new to gently used clothing and fresh hygiene products for free, but it relies on donations from the community to keep it stocked.
Weston Middle School English language arts teacher Kati Funderburk and counselor Charissa Hixenbaugh helped get the idea started. After that, a group of students started working at the Treasure Trunk. The school began collecting items during the fall and officially opened Treasure Trunk before Thanksgiving.
"The idea for the Treasure Trunk came about when I realized that many students didn't have adequate clothing," Funderburk said. "We did have a small stash of clothes that students could use, but it was hidden away in the counselor's office. It almost felt shameful for students to have to visit to get clothes."
From there, Funderburk and the school decided that a clothes closet made more sense and that all students should be able to shop for free. No matter the socioeconomic status, all students are welcome to look and take clothes, shoes and other items they need from Treasure Trunk.
There is a second-hand store in Athena, but many students struggled with the stigma of having to shop there.
"We have a high population of students living in poverty who have benefited from this," Funderburk said. "All fourth- to eighth-grade students can use it, and they don't feel ashamed for visiting because all students are going and grabbing items."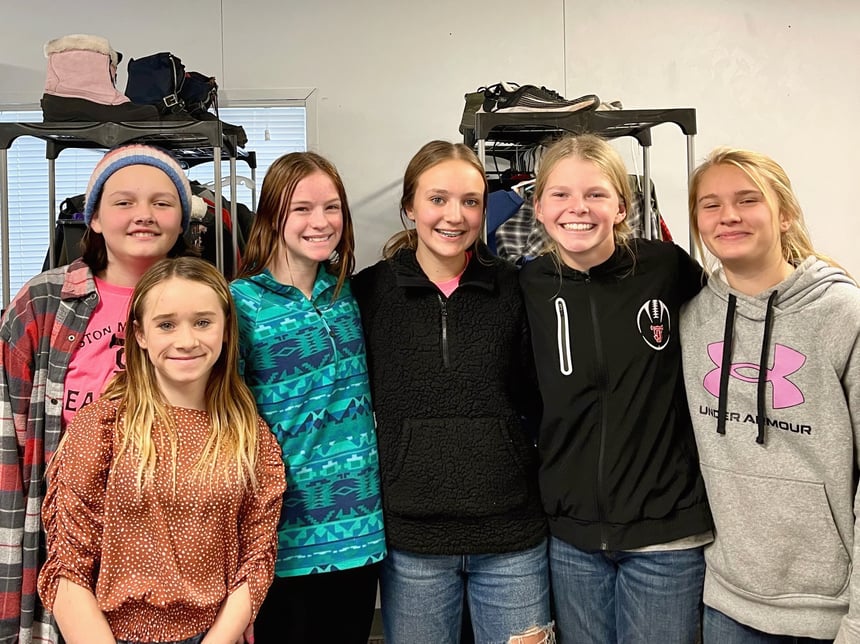 Weston Middle School (Oregon) students (from left) Cloe Calvert, Alex Hegdal, Hailie Burns, Bree Perkins, Charlotte Hansell and Addy Hall pose for a photo in the school's TigerScot Treasure Trunk, which offers students free clothing and hygiene products.
Stepping Up To Help
Funderburk said the Athena-Weston community has really stepped up in donating items. Some volunteers from the community have come in and opened the Treasure Trunk from Tuesday to Thursday during the students' lunch and recess times.
"The community has been great, and we're getting donations dropped off at school, or even at my house," Funderburk said. "Some businesses have donated brand-new items, as well. Our community realizes they can donate here instead of driving into another town or dropping off items at places like Goodwill."
Blattner's donation was the first large donation the Treasure Trunk received. Establishing a good relationship with the community is something Kennedy wanted to do since he enjoyed working in the community. Blattner's wind energy project was located on Gerking Flat Road near Athena.
"Establishing that relationship with the community is an essential part of any project we're on," Kennedy said. "Whatever our team can do to leave a positive impact is very important to us. The school was a little surprised by the amount we gave them right away, but they were very thankful."
Kennedy said the timing of the donation was important with the cold weather just beginning to hit the area in November.
"I hope the donation meant a lot to the kids in the area. We hoped that those less fortunate would be able to prep better for winter with the donation," Kennedy said. "Everybody in Athena and Weston couldn't have been nicer to us from the moment we got there. They have a very tight-knit community and care deeply about those in it."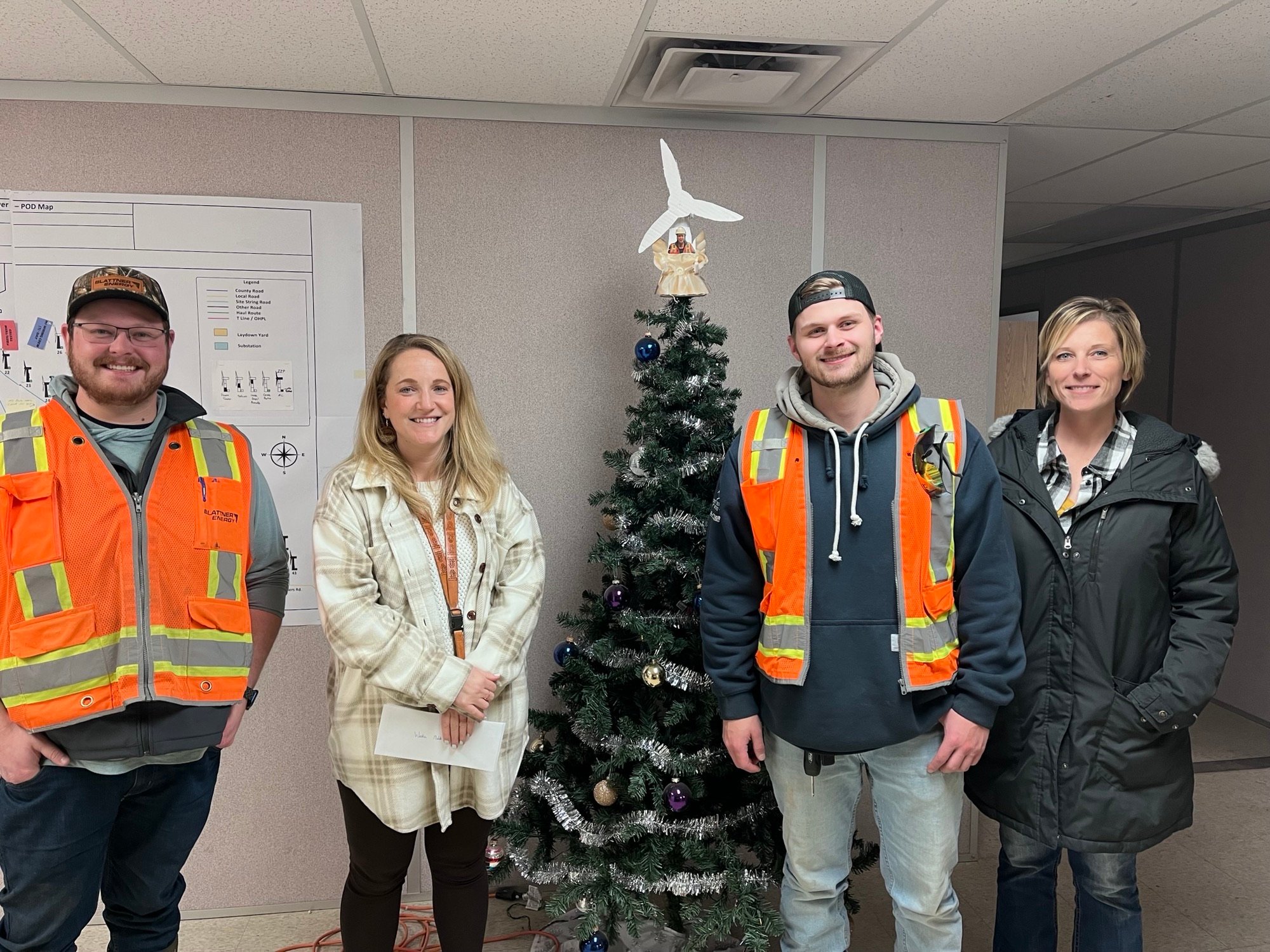 The Blattner wind project team in Umatilla County (Oregon) donated $1,000 to the Athena-Weston School District in support of its TigerScot Treasure Trunk. This resource is designed to help middle school students in the district by providing a variety of new and gently used clothing and fresh hygiene products for free. Pictured (from left to right) are Blattner site manager Keegan Kennedy, Athena-Weston language arts teacher Katie Funderburk, Blattner project construction coordinator Austin Hoien and onsite nurse Deanna Shore.
Next Steps
Funderburk called the donation from Blattner "an absolute blessing." Most of the clothing donated initially was for girls. With Blattner's donation, the Treasure Trunk was able to purchase more boys clothing, along with winter coats, gloves and hats.
Funderburk, a teacher for more than 15 years, has been teaching at Weston Middle School for six years. She grew up in the community and attended high school there.
"One of the blessings of living in a small community is that there is a sense of family where everyone comes together," she said. "The Athena and Weston communities are invested in our schools. Everyone involved in the Treasure Trunk wants what is best for our students."
Funderburk said the Treasure Trunk will continue for the foreseeable future. This summer, she and other students and teachers plan to reorganize Treasure Trunk and try to make the room feel like a clothing store.
"We're hoping to have a back-to-school event at the start of next school year," she said. "It will be great for students to shop for those items for free."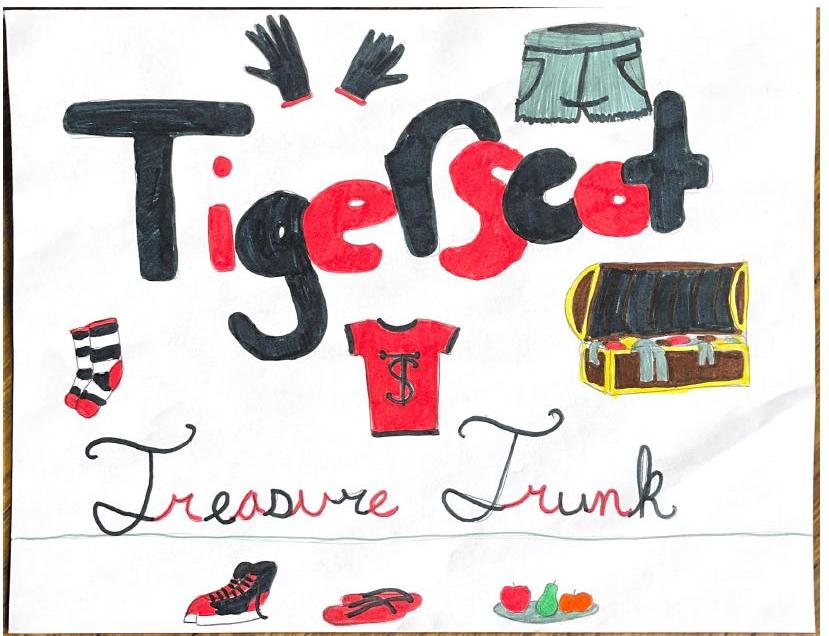 Weston (Oregon) Middle School students made a sign to make the TigerScot Treasure Trunk feel more like a store.