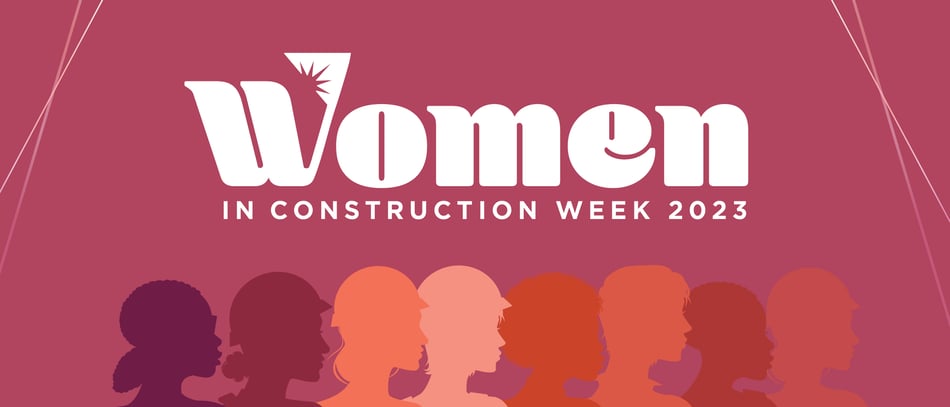 Blattner Celebrates Women In Construction Week 2023
Posted on March 7, 2023 | Blog, Culture, Careers, Character, Employee Spotlights
Things can change in the blink of an eye.
Charli Moore knows that better than anyone.
After visiting family members a few weeks before the start of her senior year in high school, Moore fell asleep at the wheel while driving from Billings, Montana, to her hometown of Big Timber, Montana. Moore worked two jobs a day during that summer – one at the local movie theater and the other at a grocery store. That heavy workload caught up with her just before she got home.
"I know I made it to seven miles outside of Big Timber because we crashed right in front of a road sign that had the distance left," Moore said. "It was about an 81-mile drive. I was tired and shouldn't have been driving. I ended up rolling the car six times.
"I remember being upside down and having to crawl out the back door. I helped my friend out of the vehicle and called 911. Luckily, she was OK. Me? I was another story."
That experience changed her outlook on her career path and led her to working as an intern with D.H. Blattner & Sons and was later hired as a site safety coordinator.
Blattner is celebrating Women In Construction Week 2023 (March 6-11) by highlighting our female employees in the field and at our corporate office in Avon, Minnesota.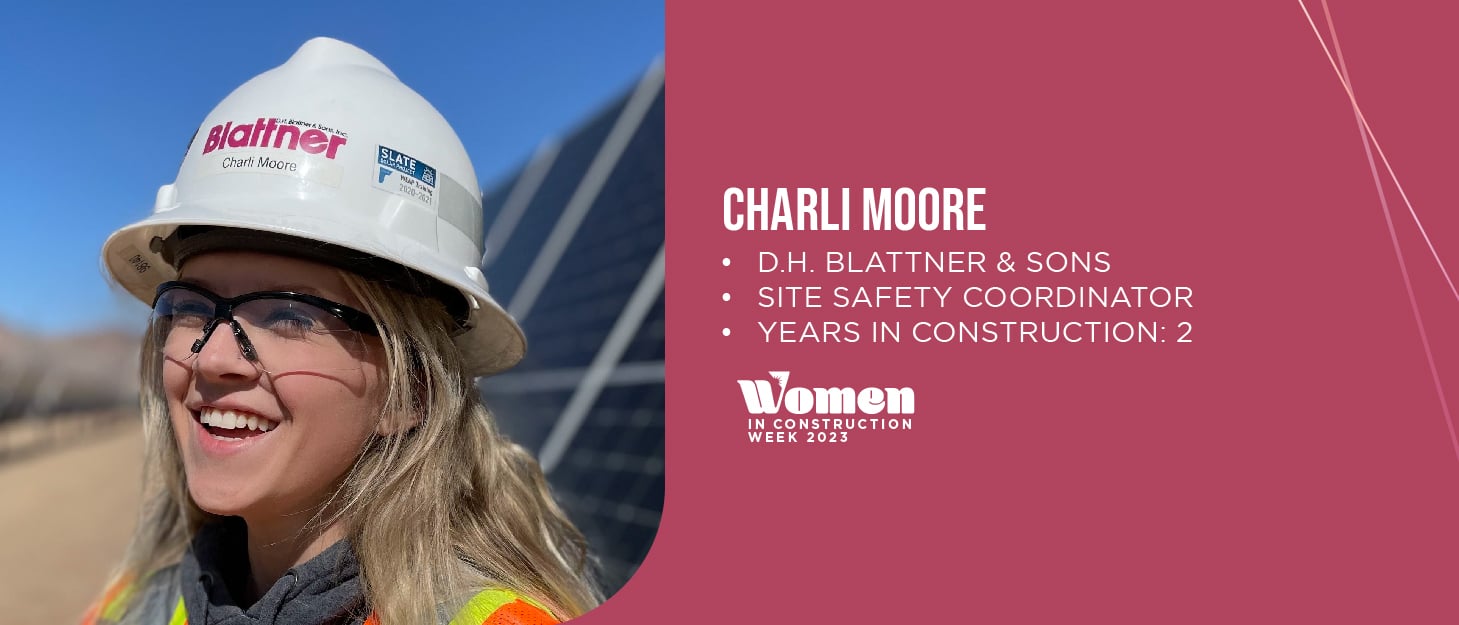 Women In Construction Week celebrates and promotes the role of women in the construction industry. This year's theme, "Many Paths, One Mission," celebrates the different journeys women have taken toward the same goal: strengthening and amplifying the success of women in the industry. Blattner is proud to celebrate the role all our female employees play in our purpose: Leading America to a Clean Energy Future.
Moore stayed in the hospital for the next four days after the car accident. She had broken the C-7 vertebrae in her neck, had glass stuck in her hand and elbow, and needed stitches in her left hand. She later needed surgery on her elbow due to damaged nerves.
"All I remember is my brother walking in and seeing me and immediately turning around. He started crying. I was in rough shape," Moore said. "My nurses were amazing, and they helped me mentally and physically as I recovered. I wanted to be that person for someone."
After starting out as a nursing major at Montana Technological University in Butte, she learned more about safety. She also knew she wanted to work outdoors for a living. So, Moore switched her major. She earned a bachelor's degree in occupational safety and health from Montana Tech in December 2021. She still would be helping people in her new career, but just in a different way.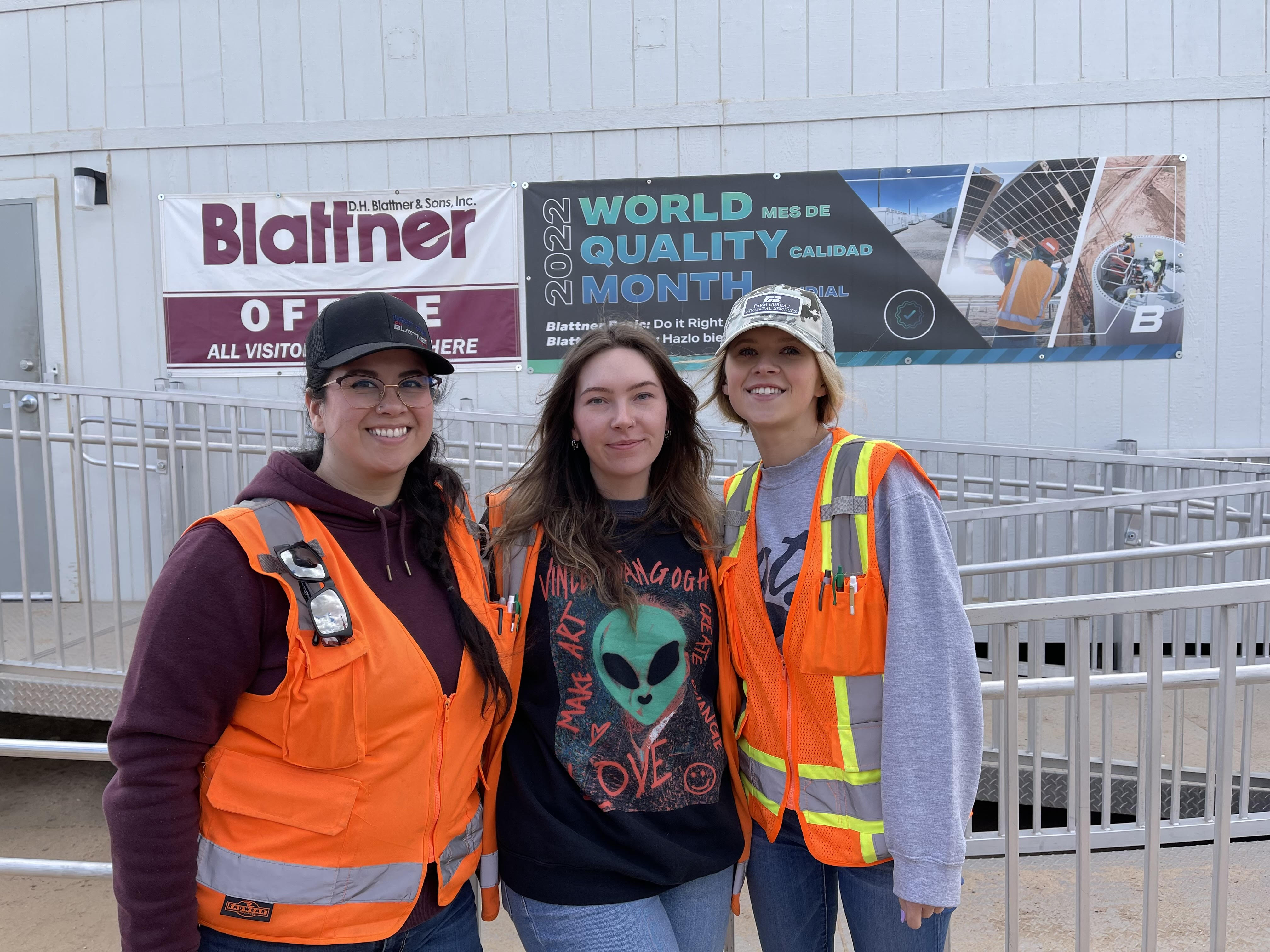 D.H. Blattner & Sons Site Safety Coordinator Charli Moore (far right) on a solar energy job site with co-workers (from left to right) Heather Ramirez and Megan Fenton.
"I enjoyed safety, and I grew up in the outdoors," she said. "I've always been a more hands-on person. I knew I wanted to get out of Montana and try something new. I figured if I didn't do that right after college, then when would I?"
Moore worked as an intern with D.H. Blattner & Sons at a solar project in California in the summer of 2021. Leaving Montana was difficult for Moore at first, but she soon realized what a work family could mean to her when she wasn't at home. Her site manager, Crystal Hutchens, who is also from Montana, made her feel right at home.
"With her being a female in construction, you can see how she's confident in everything that she does," Moore said. "I learned a lot from her. Being a female in construction – it can be scary at first. But once I got my feet wet, I started to really enjoy what I did. I shocked myself with my confidence. The management team at my internship really helped me grow as a person."
Following her internship, D.H. Blattner & Sons hired Moore as a site safety coordinator in January 2022. When she started full time, she realized how male dominated the construction industry is. In addition, being a young woman fresh out of college in the industry was even harder.
"I look even younger than I actually am," Moore said. "I've had to prove myself wherever I go – that can make it hard. But I've gained a lot of confidence in myself. I stand my ground, and I don't back down, especially when it comes to safety. I'm on my fourth site right now, and I'm proud of myself."
Moore has taken advice from many people since she started at Blattner, including Environmental Health & Safety Manager Dean Dill.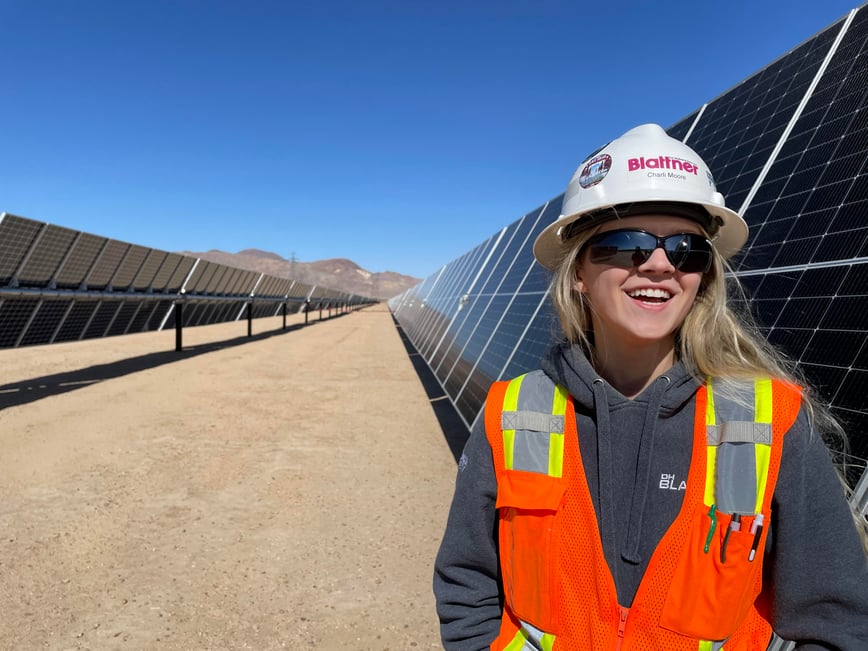 D.H. Blattner & Sons Site Safety Coordinator Charli Moore on a solar energy job site in California.
"He once told me, 'Be courageous in what we do.' We have to have tough conversations a lot of the time when you're in safety," Moore said. "What he said stuck with me. Advice like that really helps. I learn something new every day in this job and meet new people every day. That's exciting, and I want to help them as much as I can."
Moore credits her best friend – her mother – for having a huge influence on her. Her dad also taught her how to stand her ground and be confident in everything she does.
"One of the big reasons I want to stay at Blattner is because of our rotations. I get to go home and visit my family. I have a little sister in college and my older brother is in Billings," Moore said. "I call my mom every day. My dad taught me how to be brutally honest. I got my mom's sweet and caring side. I'm grateful for both of them."
Ande Gustafson
Sitting at a desk all day was not for Ande Gustafson.
After graduating from Gustavus Adolphus with an economics degree, Gustafson worked as a financial analyst at a hospital for a a few years. She knew she wanted to have a bigger influence on the world than editing spreadsheets.
"I'm a people person and just need more interaction. That job was a good start, but I knew I could make a bigger impact somewhere else," Gustafson said.
Luckily the Grand Rapids, Minnesota, native had an old college friend, David Hoien, who was working for Blattner Energy. She reached out and Hoien gave her a tour of what it was like to work as a field construction coordinator at the time. Hoien now works in business development at Blattner.
"I Facetimed him one day, and he virtually showed me around the Texas wind site he was on," Gustafson said. "I thought it looked really interesting. It definitely was not a typical office job. I also wanted to get out of the cold in Minnesota. So, I got the job at Blattner and was immediately assigned to a solar site in Michigan."

Blattner Energy's Ande Gustafson on top of the world on a wind turbine.
Gustafson, now a project construction coordinator in wind energy for Blattner, couldn't help but laugh at that almost four years later. Since that time, she's worked at projects in Texas and one upcoming in South Dakota. Starting at Blattner changed the trajectory of her professional career, for which she is extremely grateful.
"Being around people is my favorite part of this job. I like to stay in the field as much as I can. I love going to work every day, supporting my co-workers and learning about what they're doing. Then, I see what I can learn from their experiences and feedback to help improve processes both in the office and out in the field."
Gustafson is admittedly a confident person. That confidence may stem from her being a rugby captain at Gustavus. Having leadership is a trait that has always come naturally for her. She initially went to Gustavus to play softball but ended up gravitating toward rugby.
"That was a great opportunity for me to build those leadership skills. Knowing that my teammates recognized me as a captain was pretty cool. I cared so much about our team and the sport," Gustafson said.
Gustafson's confidence has helped her rise within Blattner fairly quickly. As a woman working in construction, she feels that she wasn't treated any differently than any other person. She credits Blattner for that.
"If you're confident, you can excel in any role that you have in construction," she said. "I never felt like I was treated any differently because I was a female. I have always felt welcomed here since day one. There are so many opportunities for women in this industry. As we continue to raise awareness about those opportunities, doors will continue to open for women in construction."
Amanda Ramler
After graduating from the College of St. Benedict, Amanda Ramler wasn't sure where she was going to end up in her career.
After seeing an opening for a receptionist at Blattner, Ramler jumped at the chance to join a renewable energy construction company. Now 17 years later, Ramler is the business development manager at Blattner Company in Avon.
"I worked at the front desk for three months, which was the perfect way to get to know what we do," Ramler said. "I moved into the legal department for 10 years and have been in business development for the last seven years. I wasn't seeking a career in construction, but I'm grateful it worked out that way. I feel lucky that Blattner chose me."
Ramler grew up on a farm in Kensington, Minnesota. She majored in English at St. Benedict and minored in theology. After graduating, she knew it would be tough to find a job with that major and minor.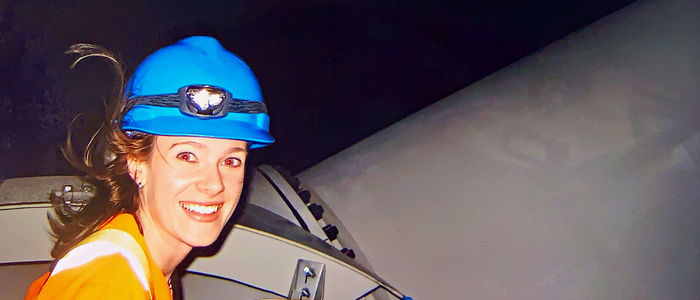 Blattner Company's Amanda Ramler on a wind energy job site.
"I realized they didn't do much for me in terms of getting a job," Ramler joked. "I grew up in a farming community and was always around hardworking people. That helped me transition into working for a construction company pretty easily. I work with the kindest, smartest, hardworking and fun people."
While she's not working in the field, Ramler knows that it's not easy to be a female in a male-dominated industry. Having been with Blattner for almost two decades, she has created strong working relationships with many people. Her advice to any female just starting out is soak up as much knowledge around you as you can and build authentic relationships.
"I started with little to no construction knowledge. You learn along the way, especially from leaders who are willing to teach. You have to find the right fit with people that will take the time to invest in your success," Ramler said. "Before you know it, you'll start to use the words 'turbine' and 'megawatts' in your daily conversations. It's amazing how much you learn."
BRIT RILEY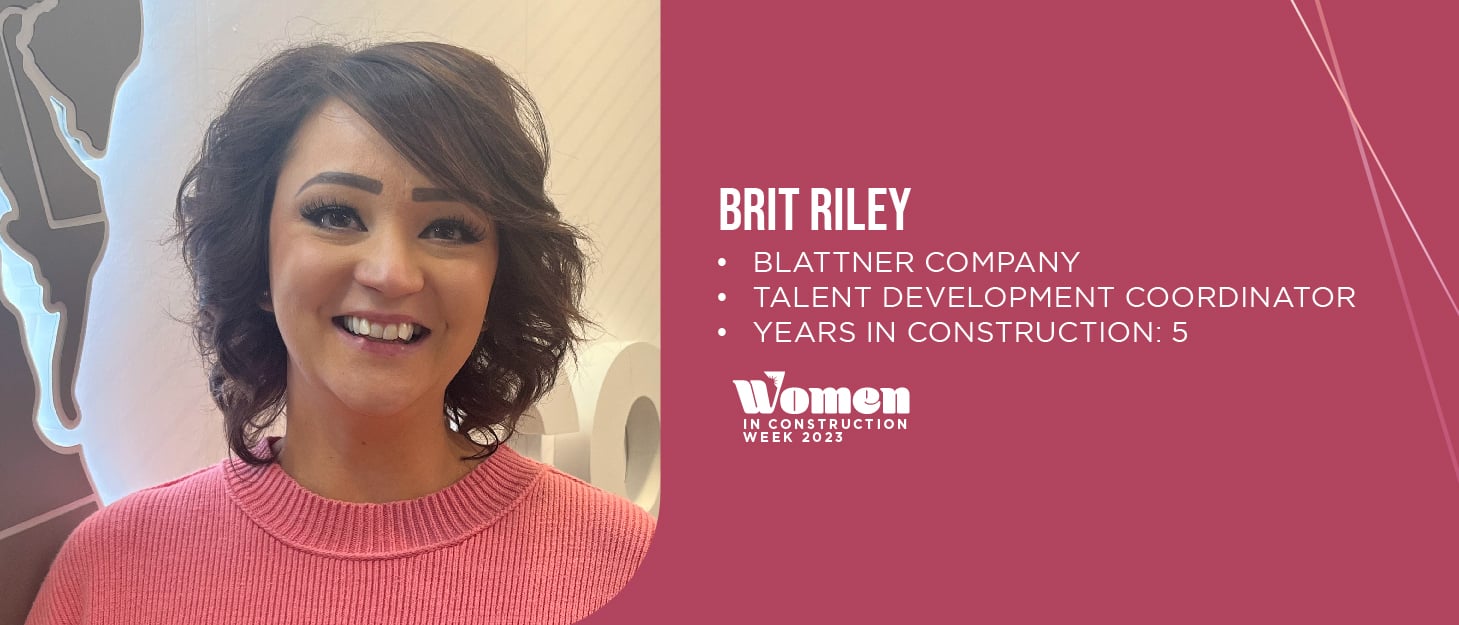 Brit Riley has always been in customer service. It's a perfect fit for her as a self-described "people person."
That's why her job as a talent development coordinator at Blattner is something she loves. One of her main roles is helping lead orientations for new hires in Avon and for Blattner's new LIFT (Leaders In Field Training) program.
"I took the role because I love helping people," Riley said. "Every day is different here. For orientation, I want this to be our new employees' first steppingstone on their journey here. I want them to pick up as much as they can so it can lead to bigger opportunities for them."
Riley, who has been with Blattner for almost five years, enjoys working for a company that is innovative and taking on challenges head on. For any female that is interested in working in construction, she encourages them to apply.
"It can be scary coming into this industry if you're not knowledgeable about it, but just never stop asking questions," Riley said. "Once you're in the industry, you feel like you've become part of a new family. Everyone at Blattner is happy to teach and mentor about what they do every day."
Riley felt that family atmosphere at Blattner so much that she encouraged her mother, Barbie Pettit, to apply as a receptionist. Pettit has now been the first face people see when they walk into Blattner's corporate office in Avon for the past three-plus years.
"I knew how much I loved it, and I wanted her to work for a company that made her feel good," Riley said. "She's my biggest supporter and I really wanted to work with her. She has the same feelings about this place that I do now.
"I'm so proud of her. In my eyes, there is nothing she can't accomplish."
To learn more about careers at Blattner, click the button below.